First commercial bio-fuel flight in Latam between Mexico City and Chiapas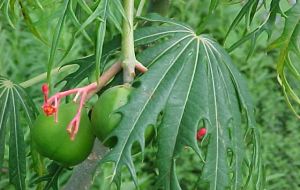 The Mexican airline Interjet has successfully conducted the first commercial bio-fuel flight in Latin America, using a jatropha-based fuel that reduces air pollution by 80%, according to company officials.
Flight 2605, operated by an Airbus A320/200, covered the route from Mexico City to Tuxtla Gutierrez, capital of the southern state of Chiapas, where the plant that served as raw material for the fuel was harvested.
"We've made history by operating the first commercial bio-fuel flight in Latin America," Interjet CEO Jose Luis Garza, who was aboard the flight, told reporters.
Interjet, which completed a test flight powered by that same bio-fuel in April, joined carriers such as Lufthansa and KLM that recently carried out flights with bio-fuel blends in Europe.
Jatropha curcas is a flowering plant whose seeds are harvested by Chiapas farmers and used to make bio-fuel, although the plantations where the crop is grown are not yet sufficiently large to make it a viable substitute for petroleum-based fuels.
"Production of this fuel is very expensive, several times more than conventional fuel, but we didn't raise the price of the tickets. The goal is to raise awareness," Garza said.
The company made a "non-recoverable" investment in the flight, according to the executive, who lauded the efforts of the Chiapas farmers who "grow the bush from which the jatropha seed is extracted."
"Growing jatropha in Chiapas could be a way to recover some of the most overexploited areas of the state and increase bio-fuel production over time," Garza said.
Meanwhile, the head of Aeropuertos y Servicios Auxiliares, the state-owned company that manages Mexico's airports and also is a supplier of aviation fuel, told reporters that more jatropha could be purchased if there is an increase in demand.
"This is the future. It's not a matter of costs, it's a matter of competitiveness," Gilberto Lopez Meyer said.