S&P upgrades Uruguay's rating to BB+, just one notch below investment grade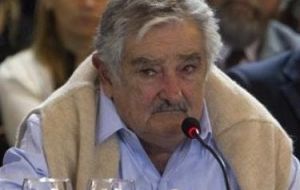 The credit rating agency Standard & Poor's upgraded on Monday Uruguay's rating by one notch to BB-plus, only one notch below investment grade, praising years of "prudent and consistent" economic policies in the country.
"The upgrade on Uruguay incorporates its growing track record on the implementation of prudent and consistent economic policies" said Standard & Poor's credit analyst Sebastián Briozzo.
Also on Monday the country registered with the US Securities and Exchange Commission to sell as much as 560m dollars worth of bonds.
But in spite of the good and consistent performance of the Uruguayan economy, analysts agree that inflation remains a threat. Uruguay remains a net energy importer with an economy growing at nearly 7%. Last month, the central bank hiked its benchmark interest rate by 50 basis points to 8%, after a 100 point rise in May.
However, the much-praised "prudent monetary policies" implemented by the government of former Tupamaro urban guerrilla leader, José Mujica and his predecessor, Tabaré Vásquez, alongside "the determined goal of reducing Uruguay's government exposure to foreign currency debt, improving the country's resistance to possible external shocks" have weighed in S&P's decision".
The rating agency also points out that in spite of "political pressures" from inside the ruling coalition, which are expected to continue, this will not affect the "main course" of economic policy.
The current economic policy remains essential for Uruguay "to continue achieving greater economic flexibility, better prepared to resist the ever growing regional and global uncertainty and persist in its impulse to improve its credit ratings".
Moody's and Fitch's have also recently hiked Uruguay's rating to BB+ which is a notch below investment grade.
On July 14, Fitch Ratings issued a one-notch upgrade on Uruguay taking it to BB+, just shy of investment-grade territory. The country's growth performance and outlook remain "quite favourable," Fitch said.
Fitch said Uruguay has benefited from high GDP per capita income, strong social indicators, and a solid institutional framework that has underpinned the nation's creditworthiness.
Also on Monday Uruguay filed a registration statement with the US Securities and Exchange Commission to issue up to 560 million dollars in government bonds. The tranche is part of a 2.9 billion bond program, according to the document filed Monday.