Argentina confident negotiations on Malvinas question 'will take place'
Wednesday, July 27th 2011 - 04:54 UTC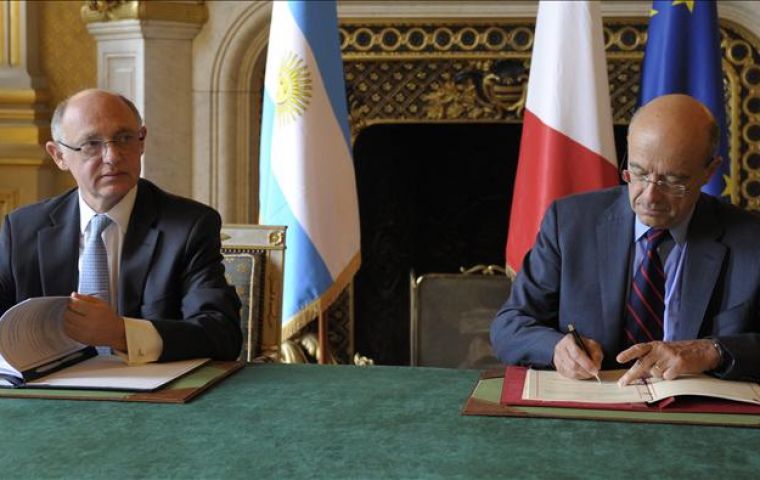 Britain can't go on shielding behind its membership of the UN Security Council to avoid dialogue on the Falklands/Malvinas question, but Argentina is confident "negotiations will take place" said Foreign Affairs minister Hector Timerman in Paris following a meeting with his French peer Alain Juppé.
"The UK can't continue to shield behind the UN Security Council permanent bench to avoid a dialogue with Argentina on the Malvinas question", said Timerman, adding that "Argentina feels it is already at the negotiations table and we hope Britain will do the same".
It's time the UK abides UN General Assembly resolutions which every year call on both sides to sit and discuss the Falkland Islands question, underlined Timerman on Tuesday at the Argentine embassy in Paris.
In other points of the agenda Timerman and Juppé addressed different issues related to the G20, which is currently headed by France.
According to the French Foreign Ministry, the Ministers analyzed "the issue of volatility of food prices and the employment issue".
Argentina has played an active role in G20 affairs having organized seminars on commodities' prices and employment.
Timerman and Juppé reiterated the two countries commitment to reach an EU/Mercosur trade agreement, 'balanced and ambitious' in the first half of next year.
Ministers also signed an agreement on extradition, which facilitates bilateral judicial cooperation.
France's Foreign Ministry spokesman said that "Argentina is an important partner for us and one of the main in Latin America in general and in South America in particular."
Juppé underlined the importance that "France gives to the memory and Justice effort that has been carried out by the Argentine Judicial authorities and people".
The French minister pointed out that the presence of French corporations in Argentina could increase once a settlement on an investment disputes suit is over.
"The quality of our bilateral relation is supported by the strong economic and commercial presence of French corporations in Argentina", said Bernard Valéro, spokesperson for the French ministry.
Timerman at the embassy in Paris said that French authorities were very pleased that the Argentine congress had passed legislation on money laundering and expressed their "conviction" that an agreement 'suitable to both sides' will be reached regarding the on going pending debt negotiations between Argentina and the Club of Paris sovereign creditors.