Venezuela remains committed to compensate oil companies, says minister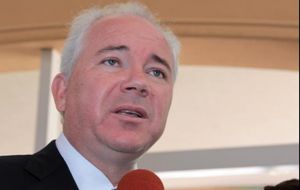 Venezuela said it remains committed to compensating Exxon-Mobil and Conoco-Phillips for nationalized oil assets, as long as the amount is reasonable and either settle by mutual agreement or set by the World Bank's arbitration panel.
"We've never said we wouldn't pay" the two U.S. multinational corporations, "the only two that didn't accept our laws and didn't accept (the terms of a compensation deal for confiscated assets) and took the dispute to the World Bank's International Centre for the Settlement of Investment Disputes, or ICSID, Energy Minister Rafael Ramirez told reporters this week.
The processes "are moving forward and we have to defend ourselves because those mechanisms are so perverse that if you don't show up they execute you," he added.
The minister, who is also the president of Venezuelan state oil company Petroleos de Venezuela S.A., or PDVSA, said the corporation had set aside nearly 1.5 billion dollars in the event of arbitration and litigation costs.
Ramirez had not referred to the compensation issue since expressing confidence last Nov. 22 that Venezuela would emerge victorious in the arbitration proceedings, saying then that the multinational companies' aspirations were unreasonable.
According to media reports, Exxon-Mobil alone is demanding compensation ranging from between 7 billion and 12 billion dollars.
"It's a kind of negotiating tactic by Exxon's defence team: target the highest figure, but we believe (the final result) will be much lower than that," Ramirez said.
The minister said Venezuela scored a victory at the Washington-based ICSID in June 2010, when the World Bank tribunal unanimously ruled that it did not have jurisdiction over any dispute that dated back prior to 2006.
That decision prompted a sharp reduction in the companies' compensation claims, Ramirez said, without giving specific figures.
When President Hugo Chavez's government was sued before the ICSID for forcing foreign oil companies in 2007 to accept minority partnerships in the massive Orinoco Oil Belt in eastern Venezuela, Exxon and Conoco not only demanded compensation for seized assets but also refunds for higher taxes and royalties paid prior to 2006.
Exxon-Mobil had suffered another setback in its dispute with Venezuela in March 2008, when a court in London overturned an order freezing 12 billion dollars from PDVSA worldwide assets.
Exxon had secured the asset freeze a month earlier, arguing it was necessary to ensure Venezuela would not safeguard its funds to evade compensation payments. In 1997, Mobil (later acquired by Exxon) and PDVSA entered into a strategic association agreement for an area of the Orinoco Oil Belt, the world's largest crude reserve with an estimated 300 billion recoverable barrels.
Chavez, who first took office two years later, decided to restore state control over extra-heavy-oil projects in that region as part of a larger socialist drive giving PDVSA a minimum 60% stake in joint ventures with foreign multinational firms.
Some of the companies accepted the new arrangements, including Chevron, Statoil, Total and BP Plc., but Exxon-Mobil and Conoco-Phillips refused.