Volcanic ash cloud dissipates and Buenos Aires airports return to normal activity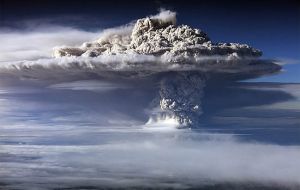 Activity in Buenos Aires Metropolitan airport slowly resumed its normal pace on Wednesday as Aerolíneas Argentinas, Austral and Lan airlines announced they resumed their operations, after cancelling them due to volcanic ash cloud.
Earlier Wednesday airlines slowly resumed their activities, after Lan decided to lift the ban in all its flights that had taken effect Tuesday night. Aerolíneas Argentinas, Sol, Pluna and Tam airlines resumed their flights as well.
The first Aerolíneas Argentinas flight departed Buenos Aires at 6 pm headed towards Sao Paulo, Brazil. The Argentine national airline carried out all flights scheduled for Wednesday progressively.
In contrast, it was announced that flights going out of Buenos Aires Ezeiza international airport were running operations as normal, after many operations had been cancelled Tuesday. However airlines informed that due to some flights being brought forward, there could be some delays in air traffic.
On Tuesday flights were cancelled from the afternoon onward by Aerolíneas Argentinas, Austral and Lan Argentina out of Aeroparque and Ezeiza, when the ash from the Chilean Puyehué volcano returned.
The Puyehué volcano in Chilean Patagonia and close to the Argentine border first erupted in early June but the spewed ash cloud has been hovering over the Southern hemisphere since then, repeatedly forcing flight cancelling in Argentina, Uruguay, south Brazil, south Chile and the Falkland Islands.
Blown by prevailing atmospheric winds the cloud also hanged over Oceania, cancelling flights in Australia and New Zealand and moving east grounded air traffic in South Africa.