Rio-Paris flight crash report opens legal battle between Airbus and Air France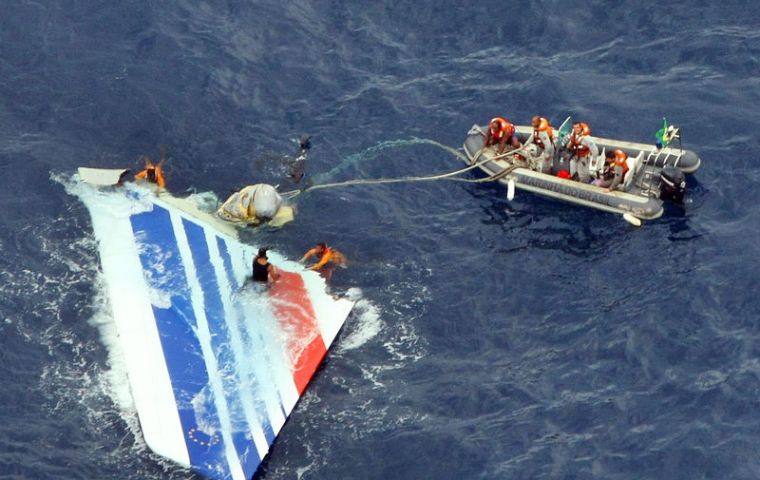 French investigators said on Friday that the crew of Air France's Rio-Paris flight which crashed into the Atlantic two years ago ignored repeated stall warnings and failed to follow textbook procedures.
France's BEA authority issued 10 new safety recommendations aimed at avoiding a repeat of the crash, which killed 228 people, including more training on flying aircraft manually – a skill which industry critics say has been eroded by computers.
The BEA report into the final minutes of flight AF 447 found that pilots failed to discuss "stall" alarms as their doomed Airbus jet plummeted 38,000 feet and hurtled into the ocean at 200 km per hour, killing all everyone on board.
It revealed passengers were not given any warning as pilots struggled to avoid the crash in the early hours of June 1, 2009. The updated account, based on recently recovered black boxes, confirmed a finding in May that the crew responded to stall warnings by doing something that has mystified aviation experts ever since – pointing the nose up instead of down.
"It seems obvious the crew didn't recognize the situation they were in, for whatever reason, and more training could have helped," said Paul Hayes, safety director at UK consultancy Ascend Aviation.
An aerodynamic stall – not to be confused with stalled engines – is a dangerous condition that occurs when wings are unable to support the aircraft. The textbook way of responding is to point the nose downwards to capture air at a better angle.
But a stall of a commercial aircraft is a rare event and especially so at high altitude, for which crash investigators have made clear there is little or no specific training. The report appeared likely to spark a battle between Air France and EADS unit Airbus over whether the pilots' actions in failing to respond to a stall or whether faulty flight equipment were most to blame.
"At this stage, there is no reason to question the crew's technical skills," Air France said in a statement, blaming the "misleading stopping and starting of the stall warning alarm" for complicating their attempts to analyse the situation.
The question of who is to blame is of huge importance as both firms face criminal probes in France. Victim's families have laid the foundation for lawsuits on both sides of the Atlantic. During normal computer-assisted flying, Airbus systems are designed to prevent a stall developing even if the pilot errs.
But in this case the A330 was being flown manually after the autopilot switched itself off in the wake of a temporary loss of reliable speed data, thought to be caused by ice on the Pitot speed sensors made by French aerospace firm Thales. The pilots had not been trained on a procedure known as "Unreliable IAS (indicated airspeed)" or on manual aircraft handling at high altitudes, the BEA said in a statement.
The BEA recommended mandatory exercises for pilots on ways of handling aircraft manually and preventing high-altitude stalls. Black box data suggested that for the most part a 32-year-old junior pilot pulled back on the stick despite a series of stall warnings, including one lasting 54 seconds.
Pilots say an Airbus stall warning consists of a synthetic voice crying "stall, stall," an alarm nicknamed the "cavalry charge" and a red master warning light on the instrument panel. Shortly before the emergency began, the 52-year-old captain had started a routine rest period but had left without giving clear operational instructions, the BEA said in a summary. By the time the captain returned to the cockpit a minute and a half into the emergency the aircraft was in serious trouble.