Rodriguez Zapatero calls early election; Spanish opposition leads opinion polls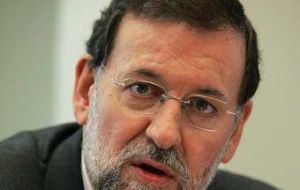 Spanish Prime Minister Jose Luis Rodriguez Zapatero announced Friday an early general election in November, four months early than scheduled, looking to capitalize on a slight upturn in opinion poll ratings.
"I believe the moment has arrived to announce a general election ... which will be held on November 20," Rodriguez Zapatero told a news conference.
Political commentators had widely speculated that the Socialists could take advantage of improved poll ratings and an up-tick in summer employment data to call an early election.
The conservative opposition under Mariano Rajoy is widely expected to win the vote, but analysts say the only question is by what margin.
Unpopular Rodriguez Zapatero has been considered a weak leader since he decided not to run again earlier this year, and the Socialists badly lost a May regional election. Former Interior Minister Alfredo Perez Rubalcaba was subsequently named the Socialist candidate.
A survey by the Centre of Sociologic Investigations conducted July 4 to 11 gave the Socialists, lead by Rubalcaba, had an approval rating of 36% compared to the Popular Party's 43.1%.
The poll results showed the Socialists had narrowed the PP's lead by 3 percentage points from the previous poll in April and since Rubalcaba announced he would run for the prime minister post.
According to the poll, 81.5% of those surveyed had little of no confidence in Rodriguez Zapatero.