Cuba allows more charter flights from the US; 350.000 visited the island in 2010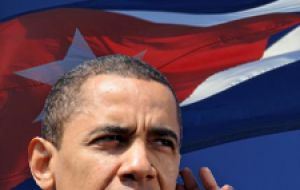 Air travel between the United States and Cuba will become easier with the opening of charter flights to the island from an additional nine US cities announced by Cuba authorities on Friday.
Cuban travel agency Havanatur Celimar said it added the cities of Tampa, Fort Lauderdale, Baltimore, Chicago, Atlanta, New Orleans, Dallas, Houston and San Juan, Puerto Rico, to the list from where charter flights would be accepted.
Cuba is preparing for an increase in visitors from its long-time ideological foe under a recent loosening of travel restrictions by the Obama administration.
The United States, which maintains comprehensive sanctions on the Castro brothers' regime and bans tourism to Cuba, does not allow regular commercial flights between the two countries.
But the Obama administration has lifted all restrictions on Cuban Americans visiting their homeland and allowed religious, academic and other professional travel by Americans to Cuba.
Havana Celimar has a monopoly on the Cuban end of US charter flights and already receives travellers on flights from Miami, New York and Los Angeles.
The number of US citizens visiting Cuba increased last year by 20%, to 63,000, according to Cuban statistics. Some 350,000 Cuban Americans visited Cuba in 2010 after the Obama administration lifted all restrictions on their travel.
The travel opening annoyed Cuban American lawmakers who have introduced legislation in Congress reimposing a Bush-era restriction on Cuban American travel to the island of only one visit every three years and more strictly enforce the ban on US travel to Cuba.
The lawmakers argue that the Obama administration is helping prop up the Cuban government, while the White House counters more people-to-people contact is the best way to undermine the island's totalitarian system.
President Barack Obama has threatened to veto any move to undercut his people-to-people policy toward Cuba.
Cuba has said it had 2.53 million tourists in 2010, with Canada the largest provider at nearly 945,000, followed by Britain at 174,000 and Italy at 112,000. Tourism has become on of Cuba's most important earners of foreign exchange, with revenues of 2.2 billion dollars last year, and an important provider of jobs.