Paraguayan president in good health with lymphatic cancer in remission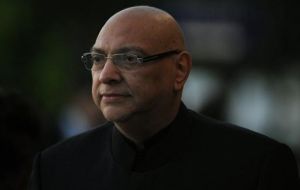 Paraguayan President Fernando Lugo's lymphatic cancer is still in remission, one of his doctors said on Friday a day after the leader cancelled a trip to Peru and went to Brazil for early routine medical tests.
Lugo, a former Roman Catholic bishop, underwent four months of chemotherapy after he was diagnosed with non-Hodgkin's lymphoma almost a year ago. Doctors said the cancer was in remission in November.
"He was subjected to a full body scan and nothing was detected, neither a return of the illness nor the indication of a return," the president's general physician, Dr. Jorge Querey, said in a statement released by the government.
Lugo, 60, decided to skip Peru's presidential inauguration and move up the date of his check-up in Brazil by two days due to a severe cold, officials said previously. He is undergoing tests at the world famous Syrian-Lebanese hospital in Sao Paulo.
Querey said the Paraguayan leader will remain hospitalized until Saturday for routine treatments to keep the cancer at bay. He undergoes tests every two to three months to see if he remains in good health.
A moderate ruler who took office almost three years ago, Lugo also suffers from vascular problems and was rushed to the same clinic in Sao Paulo in October with a thrombosis that was likely linked to his chemotherapy treatment.
"This type of illness can't be declared completely cured before a period of five to ten years, but yes the remission of lymphomas and this is the current condition of the President", said Dr. Querey
The presidential doctor said that President Lugo would be given "complementary medication", which is applied normally in these cases for lymphatic cancer, but declined to name the drugs or kind of treatment.