Falklands' active participation at forum on democracy and transparency
Monday, August 1st 2011 - 07:06 UTC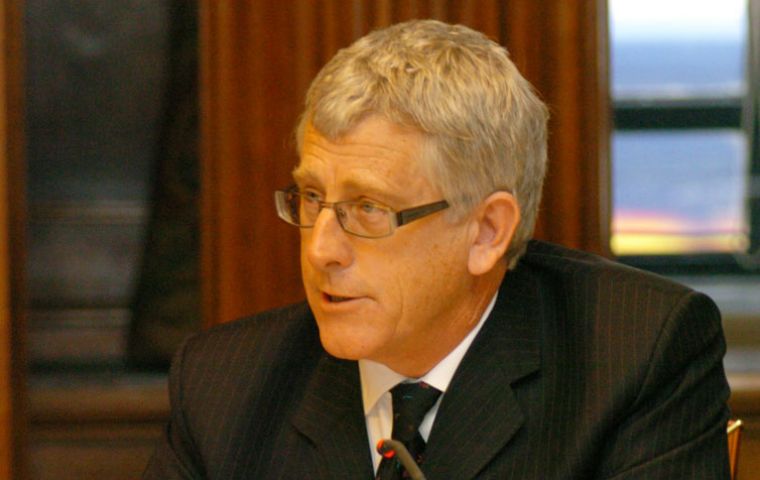 Making the democratic process more clear and transparent and parliamentary reform were among the main issues debated at the 57th Commonwealth Parliamentary Conference CPA, held last week in London and where the Falklands were represented by Dick Sawle, Member of the Islands Legislative Assembly.
This is the third time that MLA Sawle attends CPA who described the debates as very enriching particularly the issue regarding citizen's involvement in government mainly because given the Falklands small population it strains people's time and the pool of candidates that can be approached for such tasks in also quite limited.
MLA Sawle also announced that the Falkland Islands will be hosting a regional CPA meeting in February 2013, saying that the preparations are well underway and that it's always good to host these conferences because there is plenty of opportunity for getting messages across.
The Falklands representative also pointed out the CPA conference showed great interest in the hot political topics facing the Islands which can be resumed in Argentina's aggressive policy of geographically isolating and economically strangling the Falklands, plus trying by all means to scare off companies involved in oil exploration off-shore.
Speaking on Falklands Radio, MLA Sawle said he found the week very interesting and pointed out that in one of regional sessions there had been a vibrant debate on youth parliaments.
MLA Sawle said that the conference revealed that most countries have a youth parliament which normally consists of people aged between 16 and 18 years. However, "this would be very difficult in the Falklands because at that age most of the Island's youth goes to UK for further education".
Nevertheless in the case of an Australian Territory, Norfolk Island, which has a population of 1800, they have a youth parliament from the ages of 13 to 16. MLA Sawle anticipated he would be making contacts in the Islands to see whether a similar arrangement would be possible.
In the General Assembly, Councillor Sawle presented a report on the Falklands over the last year which covered issues such as the Public Accounts Committee which has been up and running for more than a year. He explained that this raised some issues regarding how a PAC can operate within a small country such as whether there should be any councillors sitting on the committee.
Asked by Falklands Radio to describe the mood amongst the delegates, MLA Sawle said that "most of the countries have got problems. Although the recession has hit the Islands in a small way it is not as bad as any of the other countries where people are dying all the time from poverty and malnutrition. Countries with massive national debt whose economies are shrinking – it puts things into perspective, and whilst I'm not trying to make light of any of the problems that we've got in the Falklands, I think we can thank our lucky stars that we are nowhere near in as bad a situation as most countries."
Finally MLA Sawle said that he found the conference useful because it is a chance to network with many Commonwealth countries and an opportunity to learn from other people's mistakes and experiences.
By Corina Goss – SeAledPR - Stanley