"We're the first force nationally and second in Buenos Aires City", says cabinet chief
Monday, August 1st 2011 - 20:23 UTC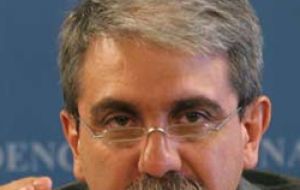 Argentine Chief of Staff, Aníbal Fernández, came on stage Monday after the Buenos Aires City runoff elections to give his breakdown of Sunday's events which have been described by political analysts a landslide victory for the incumbent mayor Mauricio Macri.
Mr. Fernandez who is also known inside the Kirchner bunker as "Hannibal the terrible" for his tongue and attitudes said that the Victory Front "obtained 24% more of the votes we got in the first round. This makes us the first political force nationwide and the second largest force within the City of Buenos Aires, a district that was always adverse to us."
"The Sunday results show the "Victory Front" as the first national strength and the first of the opposition in the Federal Capital" was the official statements made national in Argentina through the official media.
Likewise, Fernández remarked that "here (BA City) had a clear winner (Mauricio Macri) and I reiterate my congratulations to him. Anyway, I must stress, once again, that Buenos Aires City has always been a difficult district for us, but yesterday's result show that we are second largest force in the City".
Furthermore, the minister indicated that President Cristina Fernández de Kirchner "will surely" receive the leader of the right-win PRO Party at the Government House to discuss about the work coming ahead.
Re-elected Mayor Macri, gave a press conference Monday morning before starting a City cabinet meeting and when asked what were his feelings after noticing that President Cristina Fernández de Kirchner was on the phone to congratulate him, he said "First thing I thought was 'Well, I wish this mean the beginning of a more constructive relationship'."
Likewise, Macri said not to be shocked by the call as he explained "I always thought that it was a common thing, at least in the rest of the world", and remembered, "Last week, I personally called Antonio Bonfatti and Hermes Binner to congratulate them for the victory in Santa Fe."
Furthermore, the Mayor explained "There is not a single Argentine not thinking that politicians must go beyond their narcissism and work together for a common cause. People can't stand anymore intolerance. The real enemies are other and they are out there. Poverty is one of them."
Asked about the large margin (28.5 points) clinched Sunday night, the tycoon remembered all the fuzz triggered after the first round which witnessed Macri ramping a 20 points lead over Victory Front's Filmus, "They said that people was wrong for voting us, that City inhabitants were not thinking clearly, but I say people is not wrong."
Moreover, Macri insisted that votes obtained "do not belong to the PRO party, those were the votes of people who seek for a new way of doing politics, aimed to provide better services, and always respecting the rule of the law, as well personal freedom and diversity."
Likewise, the Conservative mayor who constantly refused to participate in public debates with the rest of the mayoral candidates, indicated that he won't set any pre-conditions for having talks with the presidential hopefuls as he pretends to listen to "all candidates' propositions, even President Cristina Fernández. I'd love to listen what she has to say."