Emergency bells ringing in Europe: Italy and Spain in the Euro danger zone
Tuesday, August 2nd 2011 - 21:29 UTC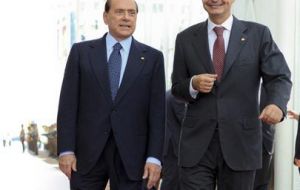 Financial market pressure on Italy intensified on Tuesday, sucking Europe's second biggest debtor nation deeper into the Euro area danger zone and prompting emergency consultations in Rome and among European capitals.
In Spain Prime Minister José Luis Rodríguez Zapatero postponed his departure for vacation to monitor economic developments after the risk premium on Spain's debt over benchmark German bonds rose to a Euro lifetime high of more than 4.0 percentage points.
Italian and Spanish bond yields hit their highest levels in 14 years, with five-year Italian yields reaching the same level as Spain's in a sign Rome is overtaking Madrid as a key focus of investors' concern about debt sustainability.
Italy's stock index fell 2.5% to its lowest in more than 27 months, dragged down by banks that have heavy exposure to Italian debt. European shares hit a 9-month low amid worries that slowing economic growth will make it even harder to overcome the Euro zone's debt troubles.
Economy Minister Giulio Tremonti chaired a meeting of the Financial Stability Committee -- made up of representatives of the government, the Bank of Italy, market regulator Consob and insurance authority ISVAP -- a day before Prime Minister Silvio Berlusconi is due to break his silence and address parliament.
In a statement after the meeting, the committee said Italy's financial system remained solid thanks to recent action to strengthen the capital base and liquidity reserves of Italian banks, but it would continue to monitor developments.
Jean-Claude Juncker, who chairs the Euro group of Euro zone finance ministers, said he would meet Tremonti in Luxembourg on Wednesday, as it became increasingly clear that a second Greek bailout agreed on July 21 had brought no respite for the currency bloc.
The European Commission said monetary affairs chief Olli Rehn, who is on vacation in Finland, would speak to Tremonti later on Wednesday.
Spain said it was in contact with fellow European governments -- particularly Germany, Italy and France -- about the situation in the markets.
Rodriguez Zapatero last week called an early general election for Nov. 20. The conservative opposition Popular Party has a 14-point lead over his Socialists in opinion polls.
Although Spain's registered unemployment declined in July for the fourth month, helped by a recovery in the country's tourism industry, the nation's jobless rate remained the highest in Europe. Even with the slight improvement 4.07 million Spaniards are still unemployed, more than in the same month last year.