"Empress of Uruguay", world's largest amethyst geode vandalized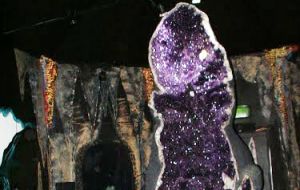 The 2.5 tons Empress of Uruguay is slightly less impressive after a tourist pinched a piece of the world's largest amethyst on show in Queensland, Australia.
The three-meter tall amethyst geode - a hollow rock filled with amethyst crystals - is the main attraction at the Crystal Caves at Atherton, southwest of Cairns. But it's now missing a bit after a tourist broke off a chunk of crystals the size of a tennis ball in a brazen act of theft and vandalism.
"It's like slashing the Mona Lisa but worse because the Empress is one of nature's grand masterpieces," owner Rene Boissevain said on Tuesday.
It's believed the culprit used some sort of tool to remove the crystals. Staff discovered the theft yesterday.
Mr Boissevain said the Empress of Uruguay was worth hundreds of thousands of dollars and the damage would reduce its value. CCTV footage has been handed to local police but Mr Boissevain hopes the person, or people, responsible will own up and return the crystals.
Crystal Caves manager Jim Russell said it was the first time the Empress had been vandalized in more than three years since it went on display. He said security would have to be upgraded to protect it from any similar acts.
Originally from the north of Uruguay, the 3.27 meters tall Empress arrived at The Crystal Caves in November 2007 and two large cranes were needed to lift her into her current position.
The Empress had a special crate constructed tightly around her, at the mine in Uruguay, and this was then secured in her own steel container and shipped out of Brazil to Brisbane, Australia.
Following the 1600km road trip to Cairns, huge cranes were used to remove her from the container and to gently place here in her current position. The "Empress Room" was then built around her.
According to the Boissevain they paid 75.000 dollars for the Empress in late 2007, and at least another 25.000 to have her shipped to Cairns. Apparently her market price is now over 250.000 Australian dollars, but she is not for sale.
When she was first found in that mine in Uruguay, she was first offered to our founder and still current owners, René and Nelleke Boissevain, because the Boissevains are long standing customers of this particular mine.