Falklands refuses refund request from fishing companies on 'value of catch'
Saturday, August 6th 2011 - 00:15 UTC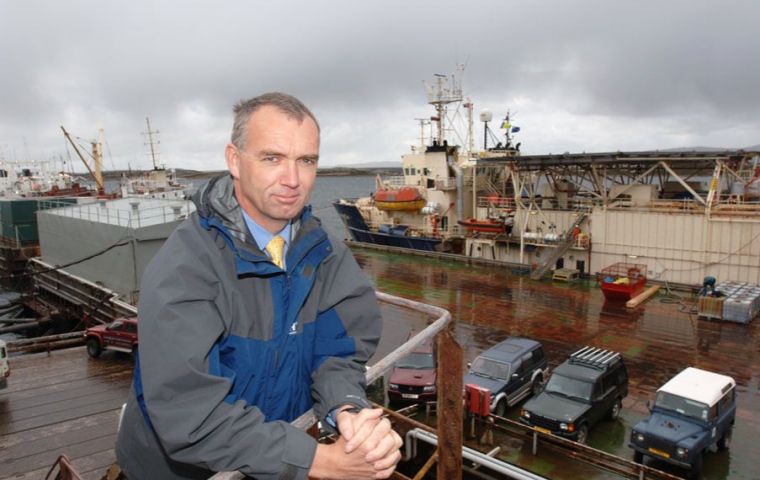 Some fishing companies are feeling "a bit hard done by" having been caught out by a change in the Falkland Islands Government Fisheries Department refunds policy implemented for 2011, said Director of Fisheries John Barton.
A Falklands Executive Council report confirmed this week that a refund request had been received in respect of the 2011 Illex season, "and after much consideration and debate members decided to refuse the refund request on the basis that the refund policy was clear, and fishing effort was fully allocated taking account of the fishing periods requested."
Mr Barton explained that prior to 2011 the liability or likelihood of a refund was calculated on the volume of catch, but the additional factor of 'value of catch' had been introduced, and this year prices for catch had been high.
He said it was possible to apply for three periods within the Illex season which is divided up from mid February to mid March, mid March to mid May and mid May until mid June: "The last period accounts for 15%, the middle 80% and the first 5%".
Companies must apply for the middle period said Mr Barton, "and if they want any of the others, that is up to them."
Some applied for the full season and some for the period up to mid May, thus while some had to pay 100 per cent of the fees, others only had to pay 85 per cent, and while the fishery went well, said Mr Barton, "it was all over in fishing terms before the middle of May so inevitably with hindsight some didn't want last period and asked for a refund."
Last year Illex catches were poor with only a total of 12,000 tons caught. This year, however, although not, "rip-roaringly abundant," said Mr Barton, they had been moderate at 80,000 tons in total.
Some years Illex catches have totalled more than 100,000 tons. (PN)