Soft loans for Brazilian suppliers of the oil and gas industry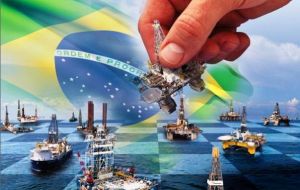 Brazil's state-owned BNDES development bank said it planned to provide about 2.55 billion dollars in financing over the next four years to suppliers to the country's oil and gas industry.
The goal of the program, which will run through the end of 2015, is to fund expansion, modernization and internationalization projects, BNDES said.
"The high investment volume expected in the coming years indicates a highly favourable outlook for the strengthening of the supplier chain in the oil and gas sector, with Brazilian companies becoming increasingly competitive both domestically and internationally," the state-owned development bank said.
The loan program, aimed at spurring competitiveness in the sector and facilitating access to credit and technology, will offer interest rates of between 4.5% and 11.04% depending on the type of project.
It also will make it easier for small- and medium-sized enterprises and micro-businesses to gain access to credit.
Those types of companies account for 85% of the suppliers of equipment and services to Brazil's oil and gas sector.
Under the program, BNDES will offer the loans either directly, through financial intermediaries or in a mixed manner, as well as using equity instruments.