Argentina's second electoral district elects incumbent candidate for governor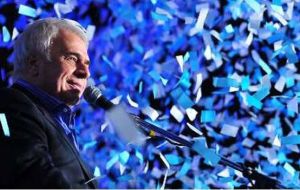 Argentina's second electoral district voted on Sunday for incumbent candidate, Jose Manuel de la Sota as the next governor of the province of Cordoba.
Even when de la Sota run as an independent and President Cristina Fernandez de Kirchner had no official candidate in Cordoba, the fact that the two main opponents Luis Juez and Jorge Aguad were supported by presidential hopefuls, also proved a test for the coming national 23 October election and CFK re-election bid.
Luis Juez was supported by the candidate of a Socialist arch coalition headed by Santa Fe governor Hermes Binner and Aguad by Ricardo Alfonsin from the Radical party, the two main contenders of CFK next October.
Early Monday morning and with 25% of ballots counted, de la Sota was leading with 44% of the vote followed by Juez with 28% and Aguad, 23%, and both contenders had acknowledged defeat. In other words it could be said that the opposition to the ruling Victory Front of Mrs Kirchner in Cordoba mustered over half the vote.
Standing next to current Cordoba governor Juan Schiaretti, governor elect de la Sota sent a message to the national government, in which he assured President Cristina Fernández he could "count on Cordoba to work and unite, but not to divide."
"To the National Government I'd like to say something they already know: you can count on Córdoba to work and unite, but not to divide. You can count on us to build a federal system that is real, not artificial," he warned.
De la Sota also confirmed that he was called by President Cristina Fernández, who congratulated him on his victory. He said, however, that her call "was not meant for him, but to all of Córdoba province."
The governor-elect also urged government officials to "leave ferocious disputes among political leaders aside; we need to leave disputes aside. Our people need to enjoy this".
With an 8.26 percent of the votes tallied, De la Sota was leading the gubernatorial race with a 47.13 percent of the votes.
De la Sota had promised that if elected governor he would then announce who he would be supporting next October. Last Tuesday in the midst of the campaign he insinuated in media statements that he would be supporting Cristina Fernandez, but immediately recalled his promise was for after the election.
Cordoba is a complicated province from an electoral point of view. After Buenos Aires it is the most developed district of the country with a very strong farming sector but also manufacturing. The farm sector has been at odds with the Kirchner administration's since the conflict over export taxes, while strong unions have benefited from the re-industrialization policy and consumer boom.
On Sunday the 2.5 million registered voters of Cordoba elected Governor, Deputy Governor, provincial Deputies and hundreds of posts at municipal level. Turnout was estimated at 73% by the Electoral Tribunal.
As happened previously in the province of Santa Fe, in Cordoba voters were allowed to cross ballots, meaning they did not have to vote for all the different candidates belonging to one sector but rather could pick and choose. This makes ballot counting slower and also could bring surprises.