Brazil, 'world's fifth largest economy' is ready to face the crisis, says Rousseff
Monday, August 8th 2011 - 20:06 UTC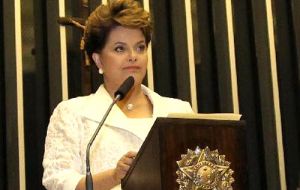 Brazilian President Dilma Rouseff on Monday the country is ready to face the world's economic crisis and reiterated Brazil's prognosis as the world's fifth economy.
"The government is ready to face times of economic tensions and we launched an especial program to ease the corporative costs," the Brazilian president stressed during her morning radio address entitled "Café com a Presidente."
The Brasil Maior program, loosely translated as a Bigger Brazil, is aimed to soothe trade surplus deficits in manufactures and "to halt predatory imports" as she described. Last week Brazil announced a plan to prop industry with soft loans, favouring Brazilian corporations in government procurement and other benefits to the tune of approximately 16 billion dollars.
Rousseff also considered the Brazilian economy more prepared to face a possibly global crisis than 2008 and forecasted Brazil will continue to grow.
"Today we are the world's seventh economy. In a short while, we will be the fifth," she remarked.
"As the international markets become more competitive we have no choice but to be innovative" Rousseff observed. "That's why we are investing and destining more funds to technological research".
Government sources recognized though – as the world economic crisis expands – the Brazilian market could be affected as they fear the flight of capital and slower global demand for commodities. China and the US are Brazil's main trade partners.
Brazil' international reserves stand at 348 billion dollars of which 211 billion in US debt.