Brazilian military warn incoming Defence minister forces are 'non political, non partisan'
Monday, August 8th 2011 - 04:54 UTC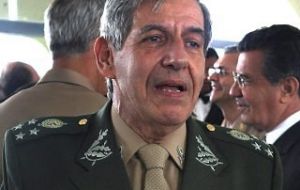 A Brazilian retired general and former commander of UN forces in Haiti warned the new Defence minister Celso Amorim to avoid giving the Armed Forces command a 'left-wing ideological imprint'.
"I would like to remind the minister that the (Brazilian) Armed Forces are State institutions, non political, non partisan. Any ideological commitment has a highly negative repercussion in the military" warned retired General Augusto Heleno in an interview with Folha de Sao Paulo.
Heleno is a respected officer and is considered the informal spokesman for the Army, since having been commander of Minustah (UN forces in Haiti) from 2004 to 2005.
Heleno retired in 2008 and at the time was Commander of the Amazon area, but openly criticized the administration of President Lula da Silva for its 'chaotic' Indian policy in the rain forest, particularly having granted government land to several communities in the area. He was immediately removed.
To Brazilian military eyes, Celso Amorim from the ruling Workers Party is seen as left-wing and several top officers object to his eight years performance as Foreign Secretary of Lula da Silva, particularly relations with Venezuela and Cuba.
President Dilma Rousseff defended the naming of the former Foreign Secretary in Defence for having developed an "independent foreign policy" which elevated Brazil's international presence.
"Amorim takes office in Defence after having been responsible for an independent foreign policy that put Brazil at the same level as the leading nations of the world. It's a level in which Brazil respects all and demands respect from all", said the Brazilian president.
According to the Brazilian press president Rousseff tried to convince the military not to make comments on her pick of Celso Amorim in Defence. She asked for 'normal institutional relations'. Nevertheless retired General Heleno was interviewed.
"Although she did not speak directly, the military are under the impression that the controversial Amnesty Law of 1979 will not be reviewed", pointed out some of the more conservative media in Brazil.
The 1979 amnesty law impedes the courts from judging military and police personnel allegedly involved in human rights violations during the military dictatorship that lasted from 1964 to 1985.
Brazilian Foreign Secretary Antonio Patriota said that naming Celso Amorim in Defence will help strengthen Brazil's global effort and the campaign for a permanent seat in the UN Security Council.
"We are a non permanent member of the Security Council and we have contributed to establish bridges between different world positions. I'm certain that with Amorim in Defence we are going to further invigorate Brazil's international role".
Amorim will be formally invested this week but has already met with the commanders of the three forces and with the Chief of Staff. The meeting according to an Executive release lasted almost two hours and was describes as 'productive'.
Following the meeting Amorim was quoted saying he was not going to "re-invent the wheel" and confirmed his commitment with the 2008 National Defence Strategy.
Amorim replaces Nelson Jobim, who was first named in Defence by former president Lula da Silva. In an interview he is quoted referring to the new cabinet minister and the institutional relations officer (links with Congress) as weak and inexperienced.