Chile's protests for education reform trigger acrimonious political debate
Monday, August 8th 2011 - 20:45 UTC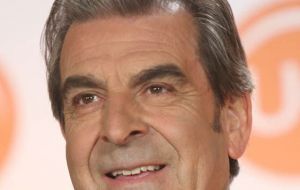 Following one of the most violent marches yet in the citizens' movement for education reform, Chilean former and current government officials are sounding off against President Sebastián Piñera's administration and its handling of the ongoing demands for national education reform.
Former President Eduardo Frei said in an interview with Argentine newspaper La Nación that Piñera is running the Chilean government like a business and that the country sits on the border of being ungovernable.
"The youth feel like they're not being listened to" Frei said. "They were born in a democracy and they don't have answers; the only thing that they see is a president who considers education to be a consumer good."
The Chilean education reform movement has gone on for three months now with strikes, school takeovers, kissing marathons, collective staged suicides and marches by tens of thousands of Chileans.
Most recently, on Thursday, Aug. 4, the national strike ended with 874 arrests and 90 police officers injured. In Santiago, the regional government denied permission for the citizens to march, but the public protested anyway, setting up bonfire roadblocks and banging pots and pans known as "cacerolazo", just like when the passive resistance to General Pinochet's regime.
Three days later, on Sunday, Aug. 7, the government permitted a march that was dubbed the "family march for education," with an estimated 30,000 participating.
Eva von Baer, conservative party UDI senator, said Frei's remarks aren't in the best interests of Chile.
"An ex-President in our country has a responsibility of leadership and the question is what does ex-President Frei want o support with such words?" said von Baer. "I believe that he is in a high position of political leadership and has the responsibility to support our country and his words do not help."
Von Baer, the former spokesperson for the Chilean government, said Frei's comments distract from the government's effort to sit down and make a deal to end the conflict, which has all but paralyzed the school year.
"I believe that what the citizens are asking us today is that we find an agreement; that we work together to move forward on the challenges that we have, as an example, in education," von Baer said.
Frei also said in the interview that Chile's rightist government was failing to operate with transparency. He said the majority of Chileans "feel they're abused by the fine print" that the government operates under.
Other members of the La Alianza right-wing coalition also vented their frustration with Frei's comments, saying that the former president did more damage to Chile than he may have realized.
"Those are irresponsible declarations that are being reproduced by the international press and they're causing the country immense damage because of two more factors: the statements are being made to the foreign press and they're being made by a former president of the Republic," government spokesperson Andrés Chadwick said.
Chadwick added that if Frei doesn't want to help the country, then he shouldn't make comments that help destroy it.
But Frei isn't the only opposition politician denouncing Piñera's management of the situation. Socialist Party president Osvaldo Andrade said the Piñera government is simply not listening to its citizens and that Chile's rightist political parties were inept and incapable of providing any answers to demands that the students and professors have presented over the last few months.
"The problem that the right in Chile has is that it does not know what to do, it does not know how to confront these things," Andrade told Radio Cooperativa.
By Nathan Frandino - The Santiago Times