Wildlife remains the biggest attraction for visitors to the Falkland Islands
Monday, August 8th 2011 - 20:14 UTC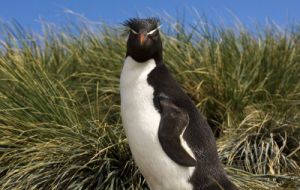 Wildlife remains the biggest draw for visitors considering a trip to the Falkland Islands according to new results revealed by a poll conducted by the Falkland Islands Tourist Board.
The survey results crowned the Rockhopper as the most loved penguin out of the five penguin species on the islands with almost half of voters choosing the birds to be their favourite followed by the majestic King penguins.
It's no surprise then that the travellers most likely to be drawn to the Falkland Islands are birdwatchers and nature enthusiasts, making up 63%, followed by photographers with 24%.
Paul Trowell, general manager for the Falkland Islands Tourist Board says that wildlife clearly is high on people's travel agenda and visitors to the Falklands are guaranteed a one-on-one experience with wildlife, and at times be surrounded by more penguins than people!
Mr Trowell says that it's really encouraging that respondents used phrases like 'natural paradise' and 'wildlife haven' to describe the Islands.
When quizzed on their favourite travel spots in the Falklands –- respondents nominated Pebble, Saunders and Sea Lion Islands as their favourite Outer Islands.
The results followed a social media initiative by the Falkland Islands Tourist Board inviting its Facebook fans to share their views and perceptions on the destination. Questions were posted over a two week period received a total of 1,467 votes from around the globe and generated 22,377 page impressions. (FIRS).-