The crisis in advanced countries "was never over, it's chronic' warns Brazilian minister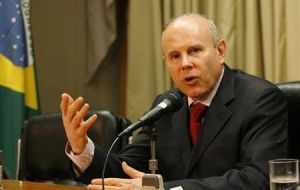 Brazil's Finance Minister Guido Mantega admitted Monday that if the international crisis in the EU and US markets persists, Brazil would have to lower its growth estimate.

"We can't do miracles", said Mantega following a ministerial coordination meeting in the Planalto Palace. He added it was 'premature' to advance any of the possible measures Brazil could adopt since 'the situation (in the developed countries) could begin to improve in the coming weeks'.

"In the advanced countries the crisis was never over", underlined Mantega. "Today it is like a 2.2 seism in the Richter scale, but in 2008 we reached 8.8 in the Richter scale to give you an idea"

Mantega described the problems in the developed countries as 'chronic' and said the 'crisis situation' would extend for the 'coming years'. And if global consumption drops, "the world will be heading for a major recession".

However "though further 'bloodletting' by markets could start to erode wealth and create a drag on the global economy, that isn't yet the case".

The minister indicated that Brazil was not at the epicentre of the crisis but will feel the effects. For this reason the Brazilian government will strengthen fiscal discipline and help Brazilian corporations. Mantega added that the domestic market needs to be stimulated so that "Brazilian products are consumed"

He added it was essential for Brazil not to increase spending but did not announce any government budget cuts. "You simply can't ask for increases in such a situation".

The Brazilian official criticized Europe for the difficulties in reacting to the crisis. "G-7 does not realize that the European governments are going around and around in circles".

Mantega said Brazilian authorities have the ability to free up more credit, if necessary, and highlighted the country's positive fiscal balance, large foreign-exchange reserves and strong domestic demand.

Mantega also expressed confidence in the U.S. dollar as a "solid currency," though he said U.S. officials have a challenge ahead of them in bringing down debt levels, reducing the fiscal deficit and creating jobs.