"The most significant financial crisis capitalism has faced in contemporary history"
Tuesday, August 9th 2011 - 12:53 UTC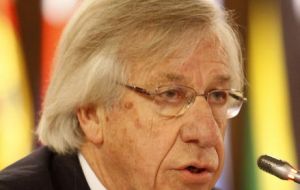 "I have no doubts we are before the most significant financial crisis capitalism has faced in contemporary history", said Uruguay's Vice-president Danilo Astori when asked about the possible consequences for the region if the lack of confidence in the US dollar and Euro extends.
Astori pointed out to the fact that following on last Friday's decision to downgrade the rating of US debt, on Monday world markets collapsed in some cases as much as 11%, while commodities also felt the impact, and the most evident case is that of oil.
"In coming months we might be faced with scarce availability of credit, and therefore it is possible we will be seeing a tendency for interest rates to increase", said Astori, an economist who was Finance minister between 2005 and 2008.
And in the commercial field "will happen what always happens when there are important negative impacts: trade flows suffer and some prices face a decreasing tendency".
Nevertheless Astori insisted Uruguay is prepared financially for such a scenario and in any case the impact should be 'reasonably moderate'.
"Uruguay has the sufficient financial resources for the next two years, at least", said the Vice-president. And from a commercial point of view "Uruguay has the advantage that in recent years it has successfully expanded and diversified trade to other parts of the world which are undergoing the situation differently, I'm talking about Asia and China".
Astori said that this will enable Uruguay to count with possibilities that it did not have in the past to face this kind of situations.
Traditionally Uruguay's trade has been closely linked to neighbouring Brazil and Argentina, plus the European Union. Now China has become the country's second trade partner and prospects with other Asian countries, are improving.