To face the crisis, it is necessary to act with "the criteria of a good housewife"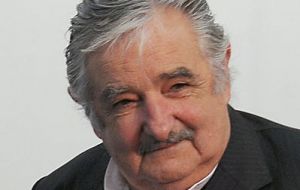 Uruguayan President Jose Mujica said Monday that the developed world financial scenario is quite disappointing almost regrettable, and recovery in those countries can be expected to be "very slow and full of uncertainties"
"The international economic situation particularly in the US and in the Euro zone has everybody very much concerned and we feel they are acting with a dangerous degree of irresponsibility in some cases", said Mujica.
He added that in spite of the fact that Uruguay is 'economically armoured' for such a scenario, given the uncertainty, "all those outlays that are considered not necessary will be reduced".
The president in his folksy style said that he will address the situation in the same way "a house wife must make decisions at home to make ends meet, using common sense to decide what expenses can be postponed or simply eliminated".
Mujica said that Uruguay has its financial commitments "comfortably covered until at least 2013", but warned that "you must never discard that faced with uncertainty we are forced to attack expenditures".
However President Mujica said that Uruguay will not repeat a situation like that of 2002 when neighbouring Argentina defaulted, its economy melted and the contagion left Uruguay on the financial cliff.
Insisting with budget cuts, Mujica said that those outlays which are not considered essential will be the first to go. "There's no other way but to reason with the criteria of a good housewife, in spite of what might seem the complexities of the situation".
Nevertheless no such cuts have been planned yet, but "they are on the drawing board, a draft which given the circumstances could be rapidly implemented".
Currently overall 'Uruguay is OK and so is most of Latin America from Colombia to the south. But from Colombia to the north the commercial dependency with the US makes things a bit more complicated", explained Mujica who also referred to Asia.
"Demand from China and India are helping, but, for how long? and with what strength?, because those are also uncertainty factors".
More specifically on the US debt problem Mujica described the dispute between Republicans and Democrats in the US Congress as painful and regrettable.
The Uruguayan president said the clash was more "a long distance move to erode President Barack Obama's re-election prospects, without taking into consideration the consequences of such an attitude for the rest of the world. As the world's leading power they have a responsibility with the rest of us and they are not behaving accordingly".
Finally Mujica said the world economy can be said to be 'globalized' but world leaders are miles away from acting with 'globalized minds and responsibility".