Zero probability of US default, "we can always print money to pay any debt"
Wednesday, August 10th 2011 - 19:33 UTC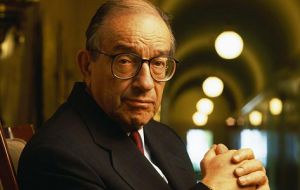 Former Federal Reserve Chairman Alan Greenspan downplayed the risk of a double-dip recession in the United States saying the domestic economy was in better shape compared to its European peers.
Greenspan also said the US debt is not a credit rating issue because there's zero probability of a US default: the United States can pay any debt it has because we can always print money to do that".
A double-dip recession "depends on Europe, not the United States," Greenspan told NBC television "Meet the Press." "The United States was actually doing relatively well -- sluggish, but going forward -- until Italy ran into trouble."
The US economy stumbled badly in the first half of 2011 and came dangerously close to contracting in the January-March period, raising fears that the economy was sliding back into recession.
Those fears were calmed somewhat last week when a debt deal was agreed before the August 2 deadline as well as data showing that employers added 117,000 jobs in July. But Standard & Poor's downgrade of the country's top-notch "AAA" credit rating late on Friday to "AA+" could hurt the recovery.
"With all of this bickering going on, the economy is slowing down" Greenspan said. "You can see it in all the data. I don't see a double-dip, but I do see it slowing down".
Europe, which buys a quarter of US exports and houses the operations of many American companies, would determine the course of the US economy's recovery, Greenspan said.
European leaders are struggling to contain a sovereign debt crisis, which has spread to Italy, the Euro zone's third-largest economy, and is causing turmoil in global financial markets.
Greenspan said Italy's troubles could contribute to destabilizing the European and US economies.
"When Italy showed signs of significant weakness in selling its bonds... it created a massive problem within Europe because Italy is a very large country that ... indeed cannot be bailed out," he said. "And that's what's causing our problem."
Greenspan said despite the S&P downgrade, U.S. Treasury bonds, unlike Italian bonds, were still a safe investment.
"This is not an issue of credit rating. The United States can pay any debt it has because it can always print money to do that. There's zero probability of default," he said.
"What I think the S&P (downgrade) did was to hit a nerve. ... It's hit the self-esteem of the United States, the psyche. And it's having a much profounder effect than I conceived could happen."