Argentine ratifies trade Mercosur-Israel trade agreement
Thursday, August 11th 2011 - 23:22 UTC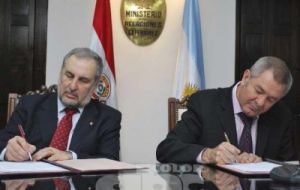 Argentina ratified this week the free trade agreement reached between Mercosur and Israel, the first to be signed by the South American block with an outer zone party.
The ceremony took place in Asunción, Paraguay, where the Argentine ambassador Rafael Romá stamped the document together with Paraguayan Foreign Affairs minister Jorge Lara Castro.
Argentina was the last of the group's four full members to ratify the agreement that eliminates some tariffs, facilitates trade and the movement of goods and promotes conditions for a fair competition in the newly created space.
"For Argentina ratification of the free trade accord is very significant: we full support advancing in the elimination of tariffs and increasing the level of trade with Israel", said Ambassador Romá.
Trade between Argentina and Israel totalled over 200 million dollars last year.
Although Uruguay holds the Mercosur rotating chair, in the first half of 2011, the post was held by Paraguay, when most of the ratification processes of the agreement took place.
Mercosur is currently negotiating trade agreements with the European Union and is holding talks with Korea, Japan, South Africa, Egypt and India among others.