Two weapons used in the killing of French tourists in northern Argentina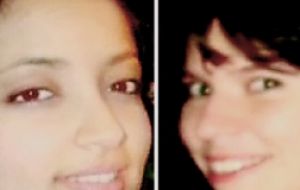 Ballistic forensic reports in the case investigating the murder of two French tourists in the Argentine northern province of Salta, determined that at least two firearms were involved in the killings, sources indicated on Thursday.
After running an analysis of the lead found at the crime scene and three measurements taken in the area, forensic investigators determined that Cassandra Bouvier (29) was murdered after being shot by a .22 calibre Bataan rifle, 54 model as she was standing two metres away from the weapon.
Also, the empty shells found near Houria Moumni (24) are a .22 calibre, but were fired by a different weapon that Salta Judge Martín Pérez is now investigating.
The judge also questioned the only one of the seven suspects under arrest who still had not provided him with his statement. The 23-years old police cadet Federico Cañizares, had previously refused to give a statement last Monday and now claims he has no involvement in the case.
His sister, María Cañizares, had said her boyfriend Gustavo Lasi had given her the victims' cell phone and camera that belonged to the murdered girls "as a gift."
According to the investigation, Lasi had given the murder weapon to his father Walter (54) in order to hide it. At the same time, Walter gave it to 47-year old Omar Ramos, so he could hide at his employer's home, located within a gated community in the area, María Cañizares said.
Despite not being directly related to the murders, the siblings could be accused of cover-up.
The two French experts in Latin American affairs were found murdered in the woods at the end of July and the exact date of their death has yet to be determined. All indicates it was a case of robbery that went wrong because of the women's resistance who were finally raped and shot.
Genetic samples of suspects have been sent to Buenos Aires University for DNA testing with hair and semen recovered from one of the women.