US job market data brings relief to markets stunned by the Euro and dollar crises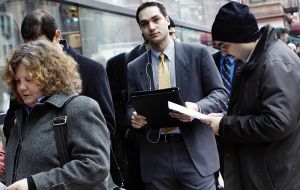 New US claims for unemployment benefits dropped to a four-month low last week, government data showed Thursday, a rare dose of good news for an economy that has been battered by a credit rating downgrade and falling share prices.
Initial claims for state unemployment benefits fell 7,000 to a seasonally adjusted 395,000, the Labour Department said, the lowest level since the week ended April 2.
A Labour Department official said there was nothing unusual in the state-level claims data, adding that only one state had been estimated.
The four-week moving average of claims, considered a better measure of labour market trends, slipped 3,250 to 405,000. Economists say both initial claims and the four-week average need to drop close to 350,000 to signal a sustainable improvement in the labour market.
The number of people still receiving benefits under regular state programs after an initial week of aid dropped 60,000 to 3.69 million in the week ended July 30.
The number of Americans on emergency unemployment benefits fell 26,309 to 3.16 million in the week ended July 23, the latest week for which data is available.
A total of 7.48 million people were claiming unemployment benefits during that period under all programs, down 89,945 from the prior week.