Brazilian Judge famous for hard-line against police death squads killed at her house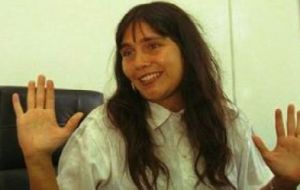 Brazilian police form the state of Rio de Janeiro are combing a suburb for clues in the murder of a high-profile criminal judge, ambushed and fatally shot at her doorstep by hooded gunmen, TV Record reported Sunday.
Patrícia Lourival Acioli, a 47-year-old mother of three, was known for her hard-line stance against Rio de Janeiro's criminal gangs and brutal militias, mostly former policemen-turned-drug runners who formed extermination gangs much like the ones seen in Mexico.
Residents of Niteroi, a suburb on a bay across from Rio de Janeiro, hung black protest banners on the beach near Acioli's home to protest her death.
"Who Silenced the Voice of Justice?" the banners read.
Men in two motorbikes presumably with support from other vehicles were responsible for the "ambush and later execution" of the magistrate, said Felipe Ettore a leading investigator of the crime.
In a recent interview with O'Globo Judge Ascioli admitted she had been threatened several times but never took them seriously. However since some time she did have bodyguards but they were not present at the moment of the killing.
Rio de Janeiro Police chief Marta Rocha said Sunday that while 18 suspects have been named by investigators, this is not a time to rush to judgment. The suspects' names have not been released. According to the Rio media among them is a police officer who was the Judge's boyfriend although the couple did not have a 'stable relation'"This is a time to analyze all the information, a time for objectivity and criteria and of silence," Rocha said.
In a written statement, Brazil Supreme Court President Cesar Peluso called the killing "a barbaric act" and an attack against the independence of Brazil's judiciary.
Acioli's Friday night death came days after she delivered tough sentences against former policemen who allegedly turned to crime.
In her 18-year career, she handed down about 60 sentences against policemen and former policemen despite recurring death threats against her, high court revealed criminal judge Manoel Alberto Rebêlo dos Santos.
According to investigators, Acioli was on a handwritten death list issued by a leading member of a militia group who was recently arrested in Rio de Janeiro.
Investigator said most of the bullets used in the shooting came from 40-caliber pistols used by civil and military police, though some came from 45-caliber pistols, used exclusively by the Brazilian Armed Forces.
Brazil's human rights organizations have helped launch a special congressional inquiry on police corruption and the growth of militias in Brazil.
According to the London-based Human Rights Watch (HRW), there are more than 40,000 intentional homicides in Brazil every year, mostly in poor areas. HRW studies claim Brazil has a "chronic" problem with police abuse, including extrajudicial executions.
"According to official data, police were responsible for 505 killings in the state of Rio de Janeiro alone in the first six months of 2010," HRW reports.
More than 90 judges are in a "most wanted" death list, according to studies by Brazil's Justice Ministry.
Nelson Calandra, president of Brazil's Association of Magistrates, said judges in Brazil need more protection against threats. "Our Ministry of Justice must create a special program to protect attacks as such," Calandra told TV Record.
Sawei Lai, a public prosecutor in Rio de Janeiro, spent three years escorted by police security because of his work on gangs and militias in Rio de Janeiro. "We all receive death threats," Lai told TV Record. "(The threats) influence us very little. If anything, is makes us more determined to fight for justice."