CFK victory in all districts including Buenos Aires City and farming provinces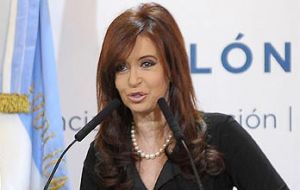 Argentine President Cristina Fernandez de Kirchner was by far the undisputed winner of Sunday's first-ever simultaneous national primary elections after she was the most voted presidential candidate in all provinces except for San Luis, where the votes went to Alberto Rodríguez Saá.
In Argentina's most populated province of Buenos Aires which is crucial for any presidential election, (and with 80% of the votes tallied), Cristina Fernandez obtained 53.36% of votes, a resounding victory for her government and clear anticipation of what is expected to happen in October 23.
In Buenos Aires City, stronghold of Conservative Mayor Mauricio Macri who was recently re-elected by an impressive margin trashing the CFK candidate Daniel Filmus, the president won with 32.2% of the vote ahead of former caretaker president Eduardo Duhalde 18.8% and Socialist Hermes Binner with 15.8%. Furthermore Mrs Kirchner won in 12 of 15 Buenos Aires City neighbourhoods.
The result is particularly impressive since the Argentine capital has always been a stronghold against the dominant Peronist movement to which President Cristina Fernandez belongs; besides the fact the Argentine capital has traditionally rejected Peronist candidates.
In Córdoba, Argentina's third electoral district, CFK obtained a 32.42%. Only a week ago the governor's race went to a member of the so-called traditional Peronism, which is not aligned with her Victory Front. Furthermore she had no governor candidate in Cordoba. The province also has a strong farming sector that confronted CFK's taxing policy.
In the impoverished north-west provinces of Salta and Jujuy the Victory Front also managed to get close to obtaining a 60% of the vote, with a 62.19% and 57.58% respectively.
In Santa Fe, fourth electoral district and a Socialist stronghold, CFK surprisingly led with a 37.89% of the votes, while outgoing Santa Fe governor and Socialist presidential hopeful Hermes Binner lagged with a 32.62% of votes.
In Chaco, and with a 35% of the votes tallied, the Victory Front obtained 61.5%, while Social-democrat Ricardo Alfonsín came in second with a 21.07%.
President Cristina Fernandez obtained an impressive 70.5% in San Juan, while her main opponent in the province, Alberto Rodríguez Saá, obtained a mere 16.6%.
The Entre Ríos province also brought great results for the President, where with over a 70% of the votes tallied Mrs Kirchner had 45.92% of votes, while Alfonsín barely reached a 17%. Entre Rios was one of the strongholds against her administration's taxing policy during the several month long 2008 farmers' conflict.
In La Pampa and Mendoza, the Argentine president also obtained close to a 50% of votes, by obtaining a 46.64% and 47.91% respectively.
Chubut governor Mario Das Neves, Eduardo Duhalde's running mate took a severe hit in his home province after barely obtaining a 26.15% of the vote against a 51.82% by the President.
At mid-day Monday and with over 80% of the votes tallied, Fernández de Kirchner's presidential formula was also leading with more than 60% of the votes, in provinces such as Catamarca, Corrientes, Chaco, Formosa, Tierra del Fuego, Tucumán, Santiago del Estero, Santa Cruz, Río Negro and Misiones.
The only province in which another candidate managed to gather more votes than Fernández de Kirchner was San Luis, where presidential candidate Alberto Rodríguez Saá gathered over 50% of the votes, while the President barely managed to obtain a 25%. The Rodriguez Saá family has ruled the province of San Luis (population 400.000) for over three decades.
With 96.8% of votes tallied Monday mid afternoon, at presidential level, primaries indicated that CFK obtained 50.07% of votes; Radical (Social Democrat) candidate Raul Alfonsin, 12.17%; Popular Front (traditional Peronist) Eduardo Duhalde, 12.16%; Progressive Front (Socialist) Hermes Binner, 10.26% and Federal Compromise Alberto Rodríguez Saá, 8.17%.