Ambassador in Brazil Shannon back to Washington to help undermanned State Department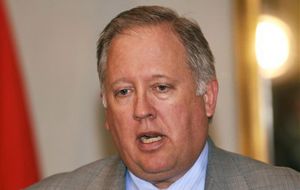 US Ambassador to Brazil Thomas Shannon is returning to Washington to serve as acting Undersecretary of state for political affairs while the State Department awaits the confirmation of President Barack Obama's nominee for the post, Wendy Sherman.

State Department spokeswoman Victoria Nuland confirmed that Shannon will begin work next week as the temporary successor to Bill Burns who was promoted to replace Jim Steinberg as Deputy secretary of state.

Shannon, a well-respected career member of the US Foreign Service, served as Assistant Secretary of State for western hemisphere affairs from 2005 to 2009 and was the National Security Council senior director for the same region from 2003 to 2005.

Shannon will lead an office that has oversight of the State Department's regional bureaus and has responsibility for the day-to-day management of regional and bilateral issues.

Shannon's return to Foggy Bottom temporarily solves two problems for Secretary of State Hillary Clinton, as he also will be able to keep an eye on the Western hemisphere bureau, which remains leaderless since the May departure of Arturo Valenzuela.

Nuland emphasized that the State Department intends to return Shannon to Brazil as soon as Sherman is confirmed. She said that Shannon will return "for what we hope will be only a few weeks ... until the Senate acts on the president's nomination of Wendy Sherman."

But Sherman's nomination still faces resistance by some Republican senators. They have three main concerns. One is due to Sherman's time as Secretary of State Madeline Albright counselor and North Korea policy coordinator. Some Republican Senators are upset that the Obama administration has begun meeting bilaterally with the North Koreans and might use this nomination, along with the nomination of Sung Kim to be ambassador to Seoul, to make their point.

Second, senators are poised to demand that Sherman disclose her private client list as a vice president at the consulting firm of Albright-Stonebridge. There's suspicion, but as of yet no evidence, that Sherman worked on behalf of Chinese state-owned firms. Senators will demand full disclosure.

Lastly, senators will criticize Sherman for being president of the Fannie Mae Foundation from 1996 to 1997. Fannie Mae practices, mostly outside the Foundation, contributed to the financial meltdown, although those abuses occurred largely after she left.

The State Department is hoping that Shannon won't have to serve in his acting capacity that long. He will keep his diplomatic credentials in Brazil and Todd Chapman, the deputy chief of mission at the US embassy in Brazil, will mind the store as chargé d'affairs during Shannon's absence.