DNA samples close to solving case of murdered French tourists in Argentina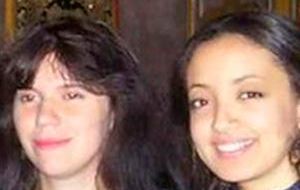 Forensic studies conducted on the DNA samples found on the bodies of the two murdered French tourists in the Argentine northern province of Salta matched the samples extracted from one of the suspects in the double murder case.

Judicial sources in Salta have confirmed that according to preliminary reports, the samples matched those extracted from 24-year old suspect Gustavo Lasi.

Earlier, the latest suspect arrested in connection to the Salta double murder case, Raúl Sarmiento, denied any involvement in the killing of the two French tourists at the Quebrada de San Lorenzo. Forensic reports, however, determine that the bullets that killed them came from the weapon that the police seized from him.

Marcelo Baez, a spokesman for the local prosecutor's office said that Sarmiento "denied everything and assures he does not know any of the other seven suspects."

Sarmiento was arrested on Sunday during a police operation that investigates the murders of Cassandre Bouvier (29) and Houria Moummi (24). One of the women was shot in the head and apparently sexually abused. The other was shot in the back, and two witnesses have told investigators they heard gunshots on July 16 near where the bodies were found.

The suspect is a 45-year old rural worker with a criminal record indicating a history of sexual abuse.

Baez said that investigators had matched hair and semen samples from the scene of the crime to the genetic profile of one of the detainees and would unveil the results on Tuesday.

Baéz also confirmed that ballistic analysis confirmed that both of the empty shells recovered at the scene of the crime were fired by the .22 calibre gun seized from him.

According to police sources, the fact that while being in prison Sarmiento was visited in jail twice by 24-year old Daniel Vilte Lasi, another suspect in the case, was detrimental to his arrest.

Seven other suspects have been arrested besides Vilte Lasi and Sarmiento: Gustavo Lasi (24), his father, Luis (42), Santos Vera (37), Omar Ramos (47), María Fernanda Cañizares (Gustavo Lasi's girlfied, 24) and her brother Federico Cañizares (23).

According to police sources, Vilte Lasi, Gustavo Lasi and Sarmiento are the main suspects in the case.

The two tourists were apparently chased and ambushed by the perpetrators while they were visiting the place and taking some pictures close to the lookout area.