Brazil JBS, world's largest beef producer, reports losses and mounting debt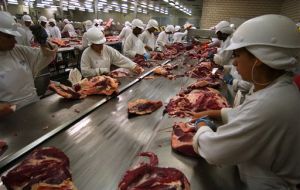 Brazil's JBS SA, the world's biggest beef producer, reported a second-quarter net loss of 180.8 million Real (114 million dollars), reversing a year-ago gain as US performance suffered.
The company posted net income of 3.7 billion Real in the second quarter in 2010, with net income of 147 million Real in the first quarter of this year, according to a regulatory filing on Monday.
Earnings before interest, tax, depreciation and amortization, a gauge of operating profit known as EBITDA, totalled 587.7 million Real in the second quarter, down 41.2% from 1 billion Real a year before.
The EBITDA was hurt by U.S. chicken producer Pilgrim's Pride Corp, controlled by JBS, which was affected by high grain prices, the company said. JBS also noted the weak performance of its beef unit in the United States in the quarter.
Analysts have warned that JBS leveraged itself heavily during a buying spree over the past five years and if global meat prices fall the company could face problems servicing its debt given tight profit margins seen recently.
Also this week Brazilian leading meatpacker Marfrig offered a similar performance posting a second quarter net loss. Chief Executive Marcos Molina dos Santos said the company would focus on cost reduction and capturing synergies from recent acquisitions.
Cattle costs in its beef sector created "a challenging environment" forcing the closure of abattoirs in Brazil and Uruguay, pointed out Marfrig.