Sao Paulo, Rio, Caracas and Bogotá most expensive cities in South America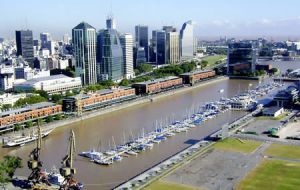 The Brazilian cities of Sao Paulo (19) and Rio do Janeiro (26), together with the Venezuelan capital Caracas (47) and Bogotá (57) Colombia, figure among the most expensive cities in Latin America, according to a bi-annual rating from the Swiss bank, UBS.
Oslo, Norway, Zurich and Geneva in Switzerland (boosted by the strong Franc), followed by Copenhagen, Stockholm, Tokyo, Sydney, Helsinki, Toronto and Singapore figure among the world's top expensive list.
The 'Prices and Earnings' UBS study which includes 122 goods and services and ranks 73 cities worldwide besides the above mentioned includes in Latam's listing Santiago de Chile (59), Mexico City (64), Lima, Peru, (65) and Buenos Aires (68). Montevideo, Uruguay was not included in the ranking.
US cities surveyed (New York, 14; Los Angeles, 31; Chicago, 36 and Miami, 41) now show lower price levels than in previous years. UBS economists attribute this in great part to the depreciation of the US dollar against many of the world's other currencies.
Meanwhile, Venezuela's capital Caracas suffers from high inflation; this, together with its pegged currency, resulted in higher prices, lifting its position in the price rankings. Should Venezuela devalue its currency again, it would result in a downward shift.
Other important cities among the list of 30 most expensive are Paris, 12; London, 15; Munich, 16; Montreal, 17; Frankfurt, 18; Dublin, 20; Brussels, 21 and Rome, 22. The Spanish cities of Barcelona and Madrid rank 25 and 30.
In the Asian continent besides Tokyo and Singapore among the top ten, figure Seoul, Korea, 35; Hong Kong, 37; Taipei, 44; Bangkok, 45; Shanghai, 49, Jakarta, 51 and Beijing, 58.
The three bottom of the list cities are New Delhi, Manila and Bombay.
Sydney, now the world's 7th most expensive city, has surged up in the rankings from 36th two years ago, partly because of the Australian dollar's continued appreciation against both the US dollar (19%) and the Euro (5%).
The world's 20 most expensive cities: 1: Oslo; 2: Zurich; 3: Geneva; 4: Copenhagen; 5: Stockholm; 6: Tokyo; 7: Sydney; 8: Helsinki; 9: Toronto; 10: Singapore; 11: Vienna; 12: Paris; 13: Luxembourg; 14: New York; 15: London; 16: Munich; 17: Montreal; 18: Frankfurt; 19: Sao Paulo; 20: Dublin
Regarding the wage index, (based on the wage, social insurance contribution and working hours data for 14 occupations worldwide to arrive at a net wage level after taxes and payroll deductions), Sao Paulo ranks 38, followed by Rio do Janeiro, 44; Bogotá, 54; Santiago de Chile, 56; Lima, 60; Buenos Aires, 61; Caracas, 62 and Mexico City, 67.
World wide top of the list are Zurich, Geneva, Copenhagen and Oslo. New York ranks 7; Los Angeles, 10; Chicago, 20 and Miami, 21. Among other cities, London ranks 22; Paris, 24; Madrid, 29; Barcelona, 30 and Rome, 31.