Sarkozy and Merkel pledge support for the Euro but disappoint markets
Wednesday, August 17th 2011 - 08:16 UTC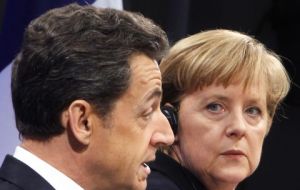 The leaders of France and Germany meeting in Paris unveiled wide-reaching plans for closer Euro zone integration, including deficit limits and biannual summits but said joint Euro bonds could only be a long-term option.
Under heavy pressure to restore confidence in the Euro zone following a dramatic market slump, President Nicolas Sarkozy and Chancellor Angela Merkel stopped short of increasing the Euro zone's EFSF rescue fund but vowed to stand shoulder-to-shoulder in defending the single currency.
Their message was that the focus should be on further economic integration rather than signing bailout cheques.
In plans to be sent on Wednesday to European Council President Herman Van Rompuy, the two leaders want a president to be elected to represent the Euro zone and twice-yearly meetings of the leaders of the embattled 17-nation bloc. The announcement follows a temporary ban on short-selling and proposals for taxing financial transactions.
US stocks dropped more than 1% and the Euro slid as the proposals failed to ease worries about a debt crisis markets fear is spreading from the periphery to the Euro zone's core.
"We have exactly the same position on Euro bonds," Sarkozy told a joint news conference with Merkel after their talks.
"Euro bonds can be imagined one day, but at the end of the European integration process, not at the beginning," he said.
The joint proposals were still ambitious, given Germany's past reticence on ideas like institutionalizing regular summits of Euro zone leaders, and respond to criticism that market confidence in the Euro zone has been undermined by a cacophony of differing policymaking voices in recent months.
The summit announcement follows news that the German economy, the horsepower of Europe expanded 0.1% in the second quarter and the revised figure for January-March was down to 1.3% (FROM 1.5%). French growth was flat and the Euro zone 0.2%, following 0.8% in the three first months of the year. Italy emerged as the best performer with 0.3%.