Venezuelan creditors want cash and gold reserves 'closer home', claims lawmaker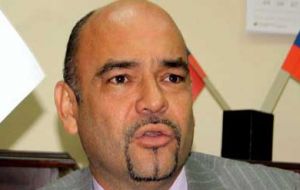 Venezuela could transfer billions of dollars in cash and gold reserves held in U.S. and European banks to financial institutions in "allied" countries, claims opposition lawmaker Julio Montoya.
Montoya, speaking on the Globovision network from the National Assembly, said the Venezuelan Finance Ministry wants to transfer more than 6 billion dollars of cash reserves to countries including China, Russia and Brazil. More than 18 billion in gold reserves abroad could be transported back to Venezuela, Montoya said, citing a document he said he obtained from the ministry.
"We think that China, Russia and Brazil have asked Venezuela to transfer the reserves to guarantee the loans that the government has received in recent years" Montoya said. "President Hugo Chavez has not yet approved the plan."
Chavez, who says he wants to eliminate the "dictatorship" of the US dollar, has called on Venezuela's central bank to diversify its 28.8 billion dollars in reserves away from US institutions. He has also promoted the expanded use of the Sucre, a currency created by the Alba bloc in 2009, for regional trade.
China has lent Venezuela as much as 32 billion dollars since 2008 to finance infrastructure and social development projects. Caracas in turn, ships more than 200,000 barrels of oil a day to China to repay the loan. The government is in talks with Brazil and Russia for new multibillion-dollar loans, Chavez said on Aug. 11.