Asian stocks down as economic uncertainty expands world wide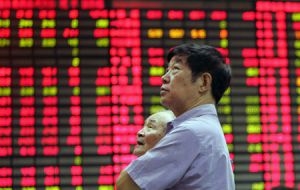 Asian stocks fell on Friday, following the trend on global markets, on continuing worries that the US economy could slide back into recession and the Euro debt crisis remains latent.
Japan's main Nikkei 225 stock index slid 2%, South Korea's Kospi saw losses of 4.5%, and Australia's ASX index was down 2.6%. Hong Kong lost 1.34% and Shanghai 1.66%.
The declines follow steep losses in the US, Europe and Latin America. Investors are concerned about global growth and the impact of a debt crisis in Europe.
What sparked the sell-off in stocks was Thursday's release of data on the US economy. Manufacturing activity in the US's mid-Atlantic region slumped to its lowest level since March 2009. Data from the Philadelphia Federal Reserve Bank is seen as an early indicator of manufacturing nationally.
At the same time, sales in the US housing market fell unexpectedly and unemployment claims rose sharply.
The numbers weighed on sentiment in both the US and Europe.
"Investors have been spooked by these data," said Yumi Nishimura, a senior market analyst at Daiwa Securities, adding that they would be looking for more clues as to the state of the economy.
"They are now focusing on next week's data such as US GDP" she said.
Amid the worries about the state of the global economy, so-called safe haven investments continued to rise in Asian trade, extending the sharp increases on Thursday, among which gold, precious metals and the Swiss franc.