Chilean central bank ends hike cycle early and keeps key rate unchanged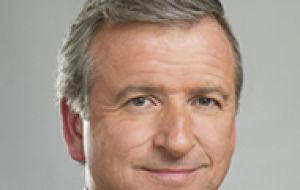 The Chilean central bank held its benchmark rate steady at 5.25% on Thursday for a second month running as inflation expectations ease and the global outlook darkens, boosting bets it has ended its rate hike cycle early.
The central bank said in a statement monetary policy changes would depend on macroeconomic conditions abroad and at home, and notably removed a reference from previous rate statements that had said further increases were likely.
Chile followed Peru's lead and held its rate in July for the first time in six months, as inflation across Latin America eased on lower global commodity prices, and currencies at multi-year highs are also seen as a factor.
"Inflation expectations show a significant decline and are close to the target," the central bank said in a statement.
"Any future changes in the monetary policy rate will depend on the implications of domestic and external macroeconomic conditions on the inflationary outlook."
Chile's economic growth slowed in the second quarter, data showed earlier on Thursday, which had reinforced views the bank would hold the rate again.
Finance Minister Felipe Larrain said on Thursday he maintained the government's 6.6% economic growth outlook for 2011, but cautioned that global financial woes posed risks, and the pace of growth would slow in the second half of the year.
"We are growing in a strong and sustained way," Larrain said. "(But) we certainly see some risks in the international economy that we are closely watching."
Chile's economy grew 1.4% in the second quarter from the first quarter, slowing from a revised 1.6% rate in the previous quarter, data showed on Thursday. Growth slowed to 6.8% in the second quarter from a year earlier, compared with a revised 10% expansion during the first quarter.
Central Bank President Jose De Gregorio said in an interview published on Sunday that global financial turmoil would impact the bank's monetary policy decisions, and said prices of some financial instruments even pointed to a reduction in the bank's key rate.
Some analysts say if global economic turmoil worsens, the Chilean central bank could be among the first in the region to cut rates, though not yet.
A central bank poll of traders published last week showed market players believe the bank has drawn an early end to a slowing rate-hike cycle, and see it holding the key rate through 2012.