Fears of recession plunge world markets; Latam losses less that in US and EU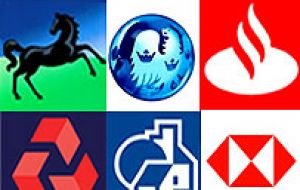 Stock markets across Latin America, led by regional heavyweight Brazil, fell sharply Thursday as recession fears sent global markets down. Meanwhile the spot price of gold hit yet another record high of just below 1.829 dollars an ounce.
Shares on Sao Paulo's stock exchange, the largest in Latin America, fell 3.52%. Brazil's benchmark Bovespa index closed at 53,134 points, after winning back some ground after a more than 4% drop during the day.
The Mexico bourse, the region's second-largest, closed down 2.36%. In Argentina, the benchmark Merval index plummeted 4.11% and in neighbouring Chile, shares fell 1.72%.
The Colombian share market lost 3.15%, and the Peruvian market shed 2.32%.
Markets plunged in Europe and the United States after Morgan Stanley said its new forecasts showed the United States and the Euro-zone "hovering dangerously close to recession"
London's FTSE 100 index ended the day down 4.5%, while Germany's Dax lost 5.8% and the French CAC was down 5.48% on concern over banks.
Spain's Ibex lost 4.7%; Milan, 6.1%; Lisbon, 4.1% and Athens, 3.4%.
Shares failed to recover in US trading with the Dow-Jones ending 3.7% down, S&P lost 4.5% and the Nasdq index, 5.22%.
Markets were also concerned about the exposure of European banks to that Euro zone debt crisis. A report in the Wall Street Journal said that the Federal Reserve Bank of New York had asked for more information about whether the US bank units of big European lenders have reliable access to funds needed to operate.
However, the New York Fed's president, William Dudley, played down the report: "It's really important to stress that we're not focusing on foreign banks any more than... US banks".
Short-term dollar borrowing costs for Euro zone banks have tripled in the last month, and on Wednesday the European Central Bank lent dollars to an unnamed Euro zone bank, the first of its kind since February.
In the UK, Lloyds Banking Group also suffered sharp falls, down 9.3%, while HSBC Holdings lost 6%. Shares in Barclays, RBS and Lloyds have now lost almost half of their value in the past six months.
In Germany Commerzbank ended the day down 10.4%. Societe Generale lost 12.3%, one of a number of French banks to fall heavily, despite a new ban on speculators short-selling their stocks.
US investor sentiment was also hit by a huge drop in a closely watched guide to manufacturing activity in the Mid-Atlantic States which analysts said pointed towards a new recession.
Other unexpected US data showed that house sales fell in July, while the number of people claiming unemployment benefit ticked up last week.