In spite of freezing climate, 100.000 Chileans march for education reform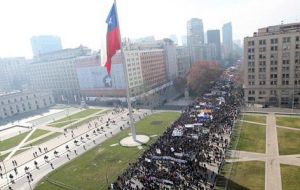 Thousands marched down Santiago's Alameda thoroughfare on Thursday, calling once more for sweeping reforms to Chile's public education system. The march began around 10:30 when 4,000 demonstrators gathered at the downtown corner of San Martin and Alameda, then continued westward down Alameda past the Los Héroes subway stop.
Weather conditions were harsh in Santiago. The downtown was hit with unusually low temperatures and incessant rainfall. Higher parts of Santiago even had snow for much of the day.
But the weather failed to dampen the festive atmosphere as the procession turned south and continued until turning east before ending at Universidad de Chile's engineering faculty, where local media reported it to have swelled to 100,000.
Preceding Thursday's march were isolated incidents involving a group of 20 "encapuchados" or hooded youth who had set up burning barricades on Alameda in front of the administrative building of Universidad de Chile as early as 7 a.m.
Despite this start, the march was notably peaceful. The only other disturbances reported were at the march's end at the corner the Beauchef and Blanco Encalada, where a small group of people started to throw rocks at police officers.
According to Radio Cooperativa, student demonstrators stopped the rock-throwers by forming human chains to fence them in.
The march was organized by student leaders and teachers, and members of other labour unions came out in support of the students' demands, which at their core aim to end profiteering in the country's education system and shift the burden of financing from municipalities to the state.
"The decentralization of education in Chile began in 1980," Patricia Urbano told The Santiago Times. Urbano, a grade school teacher for 25 years, took to the streets in support of reforms she believes are much needed for her students and their parents.
"That's when the state ceased to manage education directly and took on a role as a mere subsidizer."
Like many others who came out on Thursday, Urbano believes that the root of the problem in Chile's education system started during the right-wing dictatorship of Gen. Augusto Pinochet.
She and other protesters believe that the current system places too great a burden on municipalities that receive state funding for education only based on attendance. Prior to the 1980 Constitution, state funding was centralized and payment for tuition was calculated based on income levels.
Though the 1980 Constitution maintained the illegality of profit in educational institutions, the regime encouraged the emergence of private institutions, which critics blame for the emergence of a class-based education system.
"What the students are calling for is free education like what they have in Argentina and Mexico," said Urbano.
This is what Nicolás, a student at a Santiago university, also wants. A civil engineering major, he has to pay 6,300 dollars per year. It is a heavy burden to bear in a country where the average yearly income is 10,080 dollars per person and most university programs are five years long or more.
"All the schools participating in this movement have different demands," Nicolás said when asked about the government's proposals announced on Wednesday.
"But they all have at their core the call for a halt to profiteering from education. You need to have it under state control and it has to be free."
The government's latest education proposals were a response to the student leaders' rejection of a 21-point proposal offered on Aug. 1. The new proposals include lowering interest rates for student loans from 6% to 2%, as well as extending scholarships to the country's poorest 60%, as opposed to the 40% included in the Aug. 1 proposal.
"Interest rates for university students in this country are usurious," said Mario Ruiz of the union of Banco de Chile employees, currently striking for better wages.
Ruiz has worked for 38 years as a banker and says he understands the plight of students and parents who need to take out loans in order to pay for an education.

"The banking sector in this country has a 27% return on equity," he said. "When this happens in European countries, the authorities intervene. Here in contrast the banks are congratulated in Congress. As it stands right now, 70% of the country needs free access to education, because their salaries are simply not high enough to pay for it".
Chile's GDP is expected to grow 6.6% this year but currently less than 5% of students attend private schools.
Students and teachers from such schools were not absent from Thursday's demonstrations.
"The kids are aware of how privileged they are," said Amelia Bustamante, a high school teacher who has worked for 18 years at Santiago's Teresimo Enrique de Ossó private school. She attended Thursday's marches along with a group of her students.
"And they also don't think it's fair for the system to be so unequal. They think that quality education is a privilege that should be shared, and that's why they're out today."
By Ivan Ebergenyi – The Santiago Times