Falklands' government readies for a decision on a new deep sea port
Monday, August 22nd 2011 - 07:53 UTC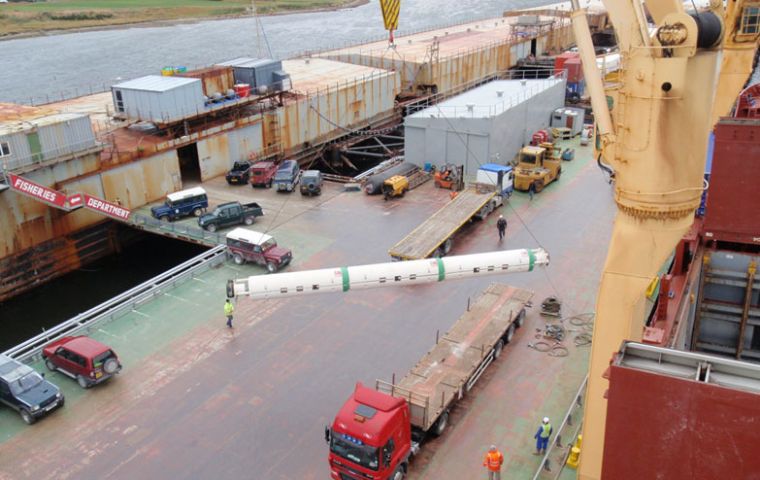 After a year without any obvious movement on the idea of a new deep sea port for the Falkland Islands it seems that the idea is alive and well and being pursued, quietly in the background. The estimates for such a project vary up to £ 50, £ 60 million.
According to local sources the Falkland Islands' Government is considering five locations and testing has and still is taking place to ascertain their suitability. Those results are now being examined but no decision is likely for some time.
MLA Dick Sawle said that the matter was, "… a very big decision which will require extensive consultation with all stakeholders and the public".
There are serious doubts about how much longer the current Floating Interim Port and Storage System (FIPASS) in Stanley can operate.
The floating network of barges was supplied by the UK Ministry of Defence following the Falklands conflict in 1982 and was purchased from the British Government in 1988. The cost has long since been recouped but, 29 years after construction, the system is showing signs of age.
Any decision now also needs to be taken in light of the ongoing oil exploration and Mr. Sawle doubted that a conclusion was imminent.
"I think that with an investment like that, which is likely to be very significant, the estimates vary, probably £50 to 60 Million. With an investment like that you need to be pretty sure of a business case and you've got to be pretty sure that you are going to need it. Because there are other options – lesser options; one of them obviously is to carry on using FIPASS until it really does fall apart. Another one, of course, is to use East Cove, which is already in existence and so the initial investment would be a lot less. And that is one option we are therefore looking at very carefully."
Finally if oil is available in commercial quantities then the needs of that industry will have to be taken into account, as well as those of the container and fishing industries.
While no-one should hold their breath, the need for a replacement facility is still there and still under active consideration, concluded MLA Sawle.