Risk of Euro breaking up is holding back US recovery, says Greenspan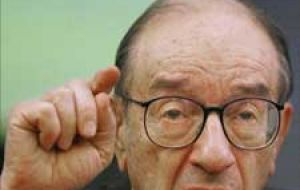 The risk that Europe's single Euro currency could break up is the main factor holding back the US economy, former Federal Reserve Chairman Alan Greenspan said, though he stopped short of predicting a new recession in the US.
Uncertainty caused by what will happen to the 17-country Euro zone, which Greenspan said couldn't survive in its current format, is restraining US consumers from spending and US companies from hiring.
"The Euro is breaking down," Greenspan said. European banks are in trouble because they hold debt of countries close to default, such as Greece, he added. "The reason we're so sluggish is the level of uncertainty."
Concern about Europe's ongoing debt crisis has contributed to fears of a double-dip recession in the United States, especially following a downturn in US manufacturing sentiment. A gauge of factory output on the US eastern coast continued to decline in August, according to data released by the Federal Reserve Bank of Richmond.
The Euro-zone crisis matters, Greenspan said, because the world economy is extremely integrated and because about 20% of U.S. exports go to Europe. Though the odds of a new recession in the US have risen, the former Fed chief said he doesn't expect that to happen--at least for now.
Casting serious doubt over the continued survival of the Euro, Greenspan said the cultural and economic differences between northern and southern Europe are just too big. While countries in the north--such as Germany, France and Finland--have a lot in common, they are very different to countries in the south, such as Greece.
Southern European states tend to have current account deficits, meaning they consume more than they produce, so they end up having to borrow from countries in the north. "That cannot go on," said Greenspan, who served as Fed chairman from 1987 until 2006.
Taking questions on the economy at a conference in Washington, Greenspan also said he believes that the sharp rise in gold prices is due to market concerns about inflation taking off in the long run. He noted how there has never been such a major expansion of credit in US economic history.
To fight the financial crisis and ensuing recession of 2008 and 2009, the Fed has flooded the financial system with cash by buying up securities including mortgage and government bonds.
"The general feeling out there is of a lull before the storm," Greenspan underline.