Greenpeace claims top-brand clothing garments tainted with toxic chemicals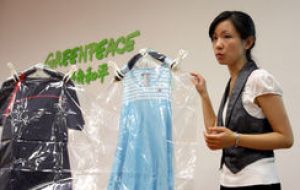 Toxic chemicals harmful to the environment and to human health have been detected in products made by 14 top clothing manufacturers, Greenpeace said this week.
The samples of clothing from top brands including Adidas, Uniqlo, Calvin Klein, H&M, Abercrombie & Fitch, Lacoste, Converse and Ralph Lauren were found to be tainted with the chemicals, known as nonylphenol ethoxylates, the watchdog said at the launch of its report "Dirty Laundry 2".
Greenpeace campaigner Li Yifang said that nonylphenol ethoxylates (NPEs), commonly used as detergents in industries including the production of natural and synthetic textiles, were detected in two-thirds of the samples the group tested.
"It mimics female hormones, alters sexual development and affects reproductive systems".
Components of NPEs have been implicated in the widespread "feminisation" of male fish in parts of Europe and also in disrupting hormone processes in some mammals, according to the campaign group WWF.
Greenpeace said it purchased 78 branded clothing samples -- mostly made in China, Vietnam, Malaysia and the Philippines -- from 18 countries around the world and subjected them to scientific analysis.
As the report was released, activists stormed a flagship Adidas store in Hong Kong, demanding that the store eliminate hazardous chemicals in their products and urging would-be customers to "rethink".
Adidas also came under fire in separate Greenpeace report, "Dirty Laundry", released last month, which accused the manufacturers of well-known textile brands of polluting major rivers in China with chemical waste.
About a dozen Greenpeace activists dressed as referees created a stir as they descended on one of Adidas' busiest shops in the southern Chinese city.
They handed out campaign leaflets to customers while handing warning yellow cards to store staff, cautioning the brand to "play clean".
Eight samples of wastewater from two factories in the Yangtze and Pearl River deltas, identified as suppliers for the brands, contained "a cocktail of hazardous chemicals", the group said in last month's report.