Argentine president campaigns in farm heartland not so long ago 'enemy territory'
Saturday, August 27th 2011 - 07:31 UTC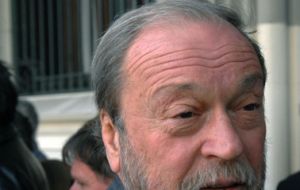 Argentine president Cristina Fernandez de Kirchner made on Friday a deep incursion into the province of Buenos Aires farmland where she headed the inauguration of a railway line which will reactivate the train service connecting twenty towns in the area.

"One of my dreams has been to industrialize rural areas across the country", said Cristina Fernandez adding that Argentina finally "has found its way and we shall sustain that path".

The head of State furthered "in this world that is suffering collapse, with issues that are occurring not so far from our own country, it's far easier to understand the things that we want to do and what we want for our country".

The inauguration took place in the town of Lincoln, 320 kilometres from Buenos Aires City, an area until not so long ago confronted with the President's policies of taxing grain and oil seed exports, but that the recent primaries of August 14, also showed an overwhelming support for her re-election bid.

Considered an anticipation of October 23 presidential and congressional elections, Cristina Fernandez garnered in the primary more votes than all her potential competitors together.

The president 's landslide support surprised even farmers leaders who successfully steered the major confrontation with her administration in 2008/09, forcing her to yield, some what, in her policies towards the farming sector.

The president's incursion in farming territory follows a recent controversy with the so-called liaison-committee of Argentina's main farmers' organizations that expected another result in the primaries and have been divided since on the interpretation of what happened with such a stunning political change.

The situation forced the head of most powerful big farmers` organization, the Argentine Rural Society, SRA, Hugo Biolcatti to back step on harsh words against those who voted President Cristina Fernández de Kirchner during the August 14 primary election.

"I'd like to put it clear that my comments were taken out of context. I step up for what I say, but I can't be responsible for what people say I said.

Biolcatti had accused Mrs. Kirchner voters of "only caring about watching Marcelo Tinelli's TV Show (the Argentine version of Dancing with the Stars)", and "paying for their plasma screen TV sets".

"They just published two lines of what I had said. I was actually referring to the state of economic boom the nation seems to go through, which obviously explains the massive support showed to the administration of Fernández de Kirchner."

Biolcatti continued on the explanation of his statements, "I was just giving examples. I was saying that there's been a new record set for trucks registered, that the construction industry seems to grow, that workshops are working at their full capacity, and that people seems to be comfortable with this government's model as they come back home after work and watch Tinelli on their plasma TV sets as they can now finance the buying of expensive appliances".