New York evacuates 250.000 people in anticipation of hurricane Irene
Saturday, August 27th 2011 - 07:35 UTC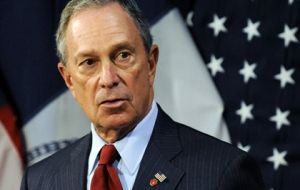 Authorities in New York City ordered mandatory evacuation of all low-lying areas before Hurricane Irene hits, Mayor Michael Bloomberg said on Friday. Bloomberg told a press conference that the evacuation - estimated at more than 250,000 people - could begin when shelters open at 4 pm.

"We've never done a mandatory evacuation before and we wouldn't be doing it now if we didn't think this storm had the potential to be very serious," Bloomberg said.

President Barack Obama warned Americans to take Hurricane Irene seriously and urged them to obey orders to evacuate from the path of what is likely to be an "extremely dangerous and costly" storm.

"All indications point to this being a historic hurricane," Obama said in a statement to reporters from the farm where he is vacationing on an island off the Boston coast.

Fifty-five million people are potentially in Hurricane Irene's path, from the Carolinas to Cape Cod on the East Coast, and tens of thousands are evacuating as cities including New York and Washington brace for the powerful storm to hit.

"I cannot stress this highly enough. If you are in the projected path of this hurricane, you have to take precautions now. Don't wait. Don't delay," Obama said.

Obama and his family will leave Martha's Vineyard on Saturday, well before Irene is projected to scour its way this far north on the New England coast. But the vacation had already been marked by natural disaster, after the island felt an earthquake in Virginia on Tuesday that shook Washington and New York.

Obama has held regular conference calls with aides on the storm, in a determined effort to learn from the mistakes of his predecessor George W. Bush, who was slammed for an ineffectual response after Hurricane Katrina swamped New Orleans in 2005.

"All of us have to take this storm seriously ... If you are given an evacuation order, please follow it," Obama said.

According National Hurricane Center the Hurricane Irene will make landfall near Cape Lookout, North Carolina, the storm is expected to move up the East Coast and take strong winds and heavy rain all the way to New England.

Already, Irene has prompted the cancellation of hundreds of airline flights and an unprecedented mandatory evacuation in parts of New York City.