S&P upgrades Brazil's ratings based on "good long-term growth prospects"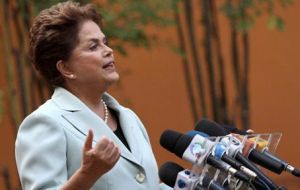 Brazil local-currency credit rating is being reviewed for an upgrade by Standard & Poor's, which cited the country's economic stability. The rating was affirmed at BBB+, the third-lowest investment grade, S&P said in a statement.
S&P also kept the positive outlook for Brazil's BBB- foreign-currency rating, the lowest investment grade.
"The positive outlook reflects the growing likelihood that the factors supporting Brazil's macroeconomic stability will continue to strengthen in coming years," S&P said.
In Brazil, the government's net debt fell to the equivalent of 39.7% of GDP in June from 48% at the end of 2005, showing an increased capacity to repay debt.
"Good long-term growth prospects --combined with improving external liquidity and deepening local capital markets-- could bolster the government's capacity to manage sudden adverse changes in global economic conditions," S&P said in the statement.
Brazilian President Dilma Rousseff, who took office in January pledged to cut this year's budget by 50.7 billion Real (32 billion dollars) to help slow inflation.
Latin America's largest economy will grow 3.8% this year, according to a central bank survey of economists, after expanding 7.5% in 2010, the fastest pace in more than two decades.