Carbinero killed Chilean teenager; General, officers and several privates expelled
Tuesday, August 30th 2011 - 05:53 UTC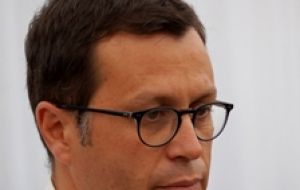 Following trials with over 500 weapons, Chilean prosecutor Jorge Martínez confirmed that the bullet which killed 16 year old Manuel Gutierrez was fired by the Uzi sub-machinegun carried by Carbineros officer Miguel Millacura on the night of August 25 during the students' protest..
"The bullet found in the body of the victim corresponds to the gun carried by officer Miguel Millacura, who is currently under arrest as the main suspect of a homicide crime", said prosecutor Martinez Monday evening.
Following on the announcement Chilean Minister of Interior Rodrigo Hinzpeter requested the immediate resignation of Carabineors General Sergio Gajardo for having prematurely discarded any of his men's responsibility in the killing of teenager Gutierrez during the student protests of last week.
"At this moment the officer is under custody and will be facing a special tribunal that will read him the charges and discuss the competence of the tribunal", added
Millacura who will most probably face a military tribunal (Carabineros were under Defence jurisdiction until last April when they were transferred to Interior) could be sentenced to twenty years in jail advanced prosecutor Martinez.
From government house, Minister of Interior said in a public statement that it was decided to request Carabineros Director General Eduardo Gordon "to demand the resignation of General Gajardo for having acted hastily and prematurely in discarding an investigation into the incident which seemed advisory and necessary".
"This morning, officer Miguel Millacura has been expelled from the force; he has spent over 18 years in the institution", said Minister Hinzpeter who also named several other members that suffered a similar decision.
In reply to opposition calls for the Minister's resignation, Hinzpeter said that "the mother of teenager Manuel Rodriguez gave us a lesson of common sense when she begged us all not to involve politics in her son's death. I think she is right".
The government of Conservative president Sebastian Piñera has been facing massive protests and marches from students demanding more funds for education, an end to privatized higher education and quality education for all Chileans.
Last week protests received the support of Chilean unions that declared two days of general strike, when teenager Gutierrez was shot dead. The boy was not part of the protest but rather pushing his brother in a wheelchair.
After months of loosing political support and plunging opinion polls President Piñera accepted to sit with student organizations representatives to talk about funding education. However, students demanded an in depth investigation to the killing of Manuel Gutierrez before any round of talks.
Minister of Interior Rodrigo Hinzpeter demanded the immediate resignation of Carabineros General Gajardo