In divided ballot Japan's ruling party chooses new PM, the sixth in five years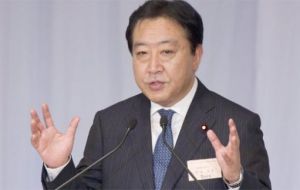 Japanese Finance Minister Yoshihiko Noda was chosen Monday to become the sixth prime minister in five years, but he needs to overcome a divided parliament and deep rifts in the ruling party if he is to make more of a mark than his recent predecessors.
The 54-year-old Noda, who defeated Trade Minister Banri Kaieda in a run-off vote in the ruling party, must deal with a resurgent yen that threatens exports, forge a new energy policy while ending the worst nuclear crisis since Chernobyl, and find funds to rebuild from the March 11 tsunami at a time when huge public debt has already triggered a credit downgrade.
No Japanese prime minister has lasted much more than a year since 2006. Noda, who will be confirmed by parliament Tuesday, will be the third premier since his ruling Democratic Party of Japan swept to power in 2009, promising change.
Instead of a deep debate over how to jolt Japan out of decades of stagnation, the party vote turned into a battle between allies and critics of Ichiro Ozawa, a 69-year-old political mastermind who heads the party's biggest group even as he faces trial on charges of misreporting donations.
Kaieda, backed by Ozawa, got 177 votes in the run-off while Noda, supported by Ozawa critics, won the backing of 215 MPs. That suggests Ozawa will remain a divisive force, although his clout is less than it once was.