Controversy over US highest paid CEOs and taxes paid by their companies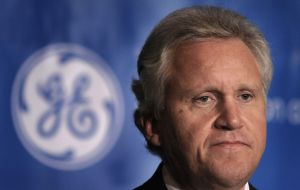 The 25 highest paid US chief executives earned more last year than their companies paid in federal income tax, a study has said. The average annual remuneration of the 25 bosses was 16.7 million dollars, the left leaning think tank Institute for Policy Studies (IPS) found.
One chief executive on its list is General Electric's Jeff Immelt, who the IPS said was paid 15.2 million dollars in 2010 while his firm got a 3.3 billion dollars tax refund.
GE said the report was "inaccurate". Its spokesman said the study did not include significant federal income taxes paid in 2010 for previous years. "GE pays what it owes," he added.
The IPS report excluded what the companies paid in foreign, state and local taxes. It also did not include deferred taxes, because it said they may or may not ultimately be paid.
Other bosses on the IPS list are those of eBay and Boeing. A Boeing spokesman said the report was "simply wrong".
The IPS said two thirds of the 25 bosses were the heads of companies that utilised offshore subsidiaries in tax havens such as Bermuda, Singapore and Luxembourg.
IPS senior scholar and co-author of the report Chuck Collins said: "I think it's an exposure of weakness in a company if their profitability is dependent on their accounting department and not on making better widgets".
The think tank also found many of the firms spent more on lobbying politicians than they did on taxes.
The IPS said Boeing spent 20.8 million dollars on lobbying, while paying only 13 million dollars in federal income taxes.
Its report hit a nerve on Capitol Hill, with Democratic Representative Elijah Cummings calling for hearings on executive pay.
Mr Cummings, who sits on the Committee on Oversight and Government Reform, said an investigation was needed "to examine the extent to which the problems in CEO compensation that led to the economic crisis continue to exist today. (BBC).-