Merkel bets she can convince ruling coalition sceptics to further support the Euro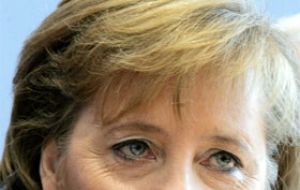 German Chancellor Angela Merkel's cabinet approved Wednesday new powers for the Euro zone's bailout fund, kicking off a month-long battle to convince sceptics in her conservative camp to back efforts to contain the bloc's crisis.
Concerned that Germany is ceding too much power to Brussels, some members of Merkel's centre-right coalition have threatened to vote against bolstering the fund – the European Financial Stability Facility (EFSF) – when the Bundestag lower house of parliament meets on September 29.
If enough Conservatives rebel and Merkel is forced to rely on opposition parties to pass the legislation, she could face pressure to dissolve parliament and call early elections, although the chances of that seem slim.
Euro zone leaders last month agreed to boost the effective size of the EFSF to 440 billion Euros and give it extra powers, including a potential role in helping to recapitalise banks.
There are fears that if Berlin insists on parliament having a greater say in the EFSF, other countries will too, limiting the fund's ability to act swiftly to save stricken states.
Faltering economic growth in the 17-nation Euro zone risks prolonging the debt crisis, which began nearly two years ago and has since spread from peripheral states like Greece, Portugal and Ireland (all of which have received bailouts) to bigger economies like Spain and Italy.
Finance Minister Wolfgang Schaeuble said an expanded EFSF that would have powers to intervene in bond markets and provide precautionary credit lines to troubled member states would help the bloc "prevent contagion in good time".
The Bundestag vote on Sep. 29 will be followed by a vote in the upper house (Bundesrat) the next day, which would allow ratification of the EFSF by the end of the month as Merkel and French President Nicolas Sarkozy have promised.
Merkel's conservative coalition has 330 seats in the 620-seat Bundestag.