Minister criticizes Sao Paulo police for celebrating 1964 military coup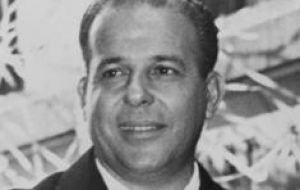 In their internet portal the 'Rota' elite forces from the Sao Paulo police underscore their achievements in recent history and vindicate the 1964 coup.
"Revolution in 1964: when the force participated in the ousting of then president Joao Goulart, with the support of the people in the streets and the Armed Forces, giving light to the military regime of president Castelo Branco" reads the achievements calendar in the Police page of the Sao Paulo government.
However Minister Nunes said her criticisms were not geared against Governor Geraldo Alckmin who belongs to the main opposition party, PDSB, Brazilian Social Democracy party.
"All states of the union must make efforts for the rule of the truth and memory and for democracy. It's unimaginable to have an official page from a state government where there is a homage to the ousting of an elected constitutional president as is the case of Goulart", said Nunes.
The minister defended the creation in Congress of a Truth Committee to investigate the crimes of the dictatorship (1964/1985), even when in Brazil rules a bill dating back to 1979, Amnesty Law, which was enacted to cover both sides (military and guerrillas) involved in the fighting.
Goulart went into exile in Uruguay avoiding a major blood bath since half the Brazilian Army was willing to support him. He died in 1976 in Argentina in mysterious circumstance following a barbecue with friends and former politicians. The family insists he was poisoned since he enjoyed good health and later disclosed official documents showed that there Brazilian government agents infiltrated among Goulart's entourage.
At the time the military regime was divided on a possible political opening and former president Goulart is known to have been in contact with military officers.
Contrary to neighbouring Argentina, Uruguay and Chile, under the umbrella of the 1979 Amnesty Law no Brazilian military or member of the police forces has been before a magistrate under allegations of human rights abuse.